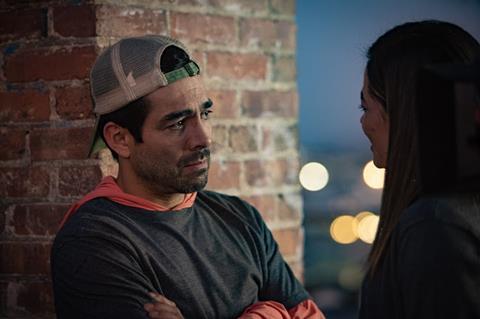 The world premiere of 7th & Union will open the 2021 20th anniversary Los Angeles Latino International Film Festival (LALIFF) at the TCL Chinese Theatre in Hollywood on June 2.
Anthony Nardolillo directed the Broken English production, starring Mexican actor Omar Chaparro in the story of two men who pursue their dream of providing a brighter future for their family. Ruben Islas' Grandave Capital financed the feature.
Lissette Feliciano's directorial debut and coming-of-age drama Women Is Losers set in 1960's working-class San Francisco will close the festival on June 6 and screens at the TCL Chinese 6 Theatres. Simu Liu, star of Marvel Studios' upcoming Shang-Chi And The Legend Of The Ten Rings, also stars in the film, which premiered at SXSW.
The programme will include world premieres of Something Blue, the debut feature by Panamanian filmmaker Mariel García-Spooner, and Blursday by Sergio Guerrero; international premieres of Javier Fuentes-León's The Best Families (Peru) and Papi by Noelia Quintero (Dominican Republic), based on a novel by queer artist and musician Rita Indiana.
There are US premieres for Colombian documentary Between Fire & Water by Viviana Gómez Echeverry, and La Botera (Argentina) by Sabrina Blanco.
Completing the international features roster are the debut of emerging Mexican director Ángeles Cruz's Nudo Mixteco, and the Afrofuturist Executive Order (Brazil) by Lázaro Ramos that premiered at SXSW.
Latino selections include documentary Rita Moreno: A Girl Who Decided To Go for It directed by Mariem Perez Riera; Bridges, the debut feature by director and actress Maria Corina Ramirez; documentaries American Exile by John J. Valadez, Landfall by Cecilia Aldarondo, and Fruits Of Labor by Emily Cohen – all three made with the support of the Latino Public Broadcast – and Jonathan Cuarta's 202 Tribeca selection My Heart Can't Beat Unless You Tell it.
"After such a challenging year LALIFF comes stronger than ever, with a diverse programme that is testament to the creativity and resilience of our artists," said LALIFF artistic director Diana Cadavid.
"Our combination of in-person and virtual events is designed to enhance our viewership experience and to ensure that everyone can enjoy the rich offering of films, episodics, music and art that we have carefully curated."
Last autumn, LALIFF announced its Latinx inclusion Fellowship Series sponsored by Netflix that was awarded to Afro Latino filmmakers Lorena Durán, Justin Floyd, Kase Peña, Monica Suriyage, and Tamara Shogaolu. All five will premiere their short films as part of LALIFF 2021.
The festival's inaugural Animation Day will be presented by Cartoon Cartoons, the Cartoon Network Studios' recently announced animated shorts content initiative.
LALIFF's Industry Days is designed to connect filmmakers and industry professionals including sales agents, buyers, producers, production executives, craftspeople, financiers, festival programmers, film commissioners, film publicists, and exhibitors.
As previously announced, LALIFF 2021 will hold a preview screening of In the Heights on June 4.