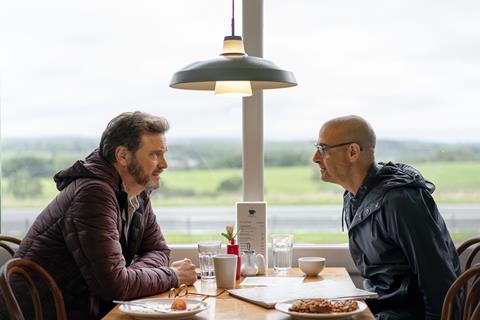 San Sebastian International Film Festival (SSIFF) is set to world premiere a raft of new features, which will compete for the coveted Golden Shell award.
The 68th edition, which runs September 18-26, will see 13 films play in competition from the Official Selection, nine of which are world premieres.
Scroll down for full list of titles
These include Harry Macqueen's UK drama Supernova, starring Colin Firth and Stanley Tucci, and UK documentary Crock Of Gold: A Few Rounds With Shane MacGowan, directed by Julien Temple and produced by Johnny Depp.
Spanish films set to debut at the festival include Pablo Agüero's historical drama Akelarre and Antonio Méndez Esparza's documentary Courtroom 3H while Eduardo Crespo's Argentinian drama We Will Never Die will also be first shown at San Sebastian.
From Japan, Takuma Sato's Any Crybabies Around? will receive its world premiere at SSIFF while Chinese drama Wuhai, from director Ziyang Zhou, will also debut at the festival.
In The Dusk, from Lithuania's Sharunas Bartas, and Simple Passion, from French filmmaker Danielle Arbid, round of the titles set to premiere at the festival.
Films in competition that previously screened at Toronto include Naomi Kawase's True Mothers, Thomas Vinterberg's Another Round and Dea Kulumbegashvili's Beginning. Summer Of 85, from French director François Ozon, was released in France in mid-July.
However, just three of the 13 films selected for competition are directed by a woman.
The Official Selection jury will be presided over by Italian filmmaker Luca Guadagnino and includes British actor Joe Alwyn, Spanish producer Marisa Fernández Armenteros, Mexican director Michel Franco and Spain-based costume designer Lena Mossum.
Together, they will award the Golden Shell for best film (to the producer), Silver Shell's to the best director, actress and actor, and jury prizes for cinematography and screenplay.
The winners will be announced and presented at the festival's closing gala.
San Sebastian will also see 12 films screened in the New Directors competition, showcasing features by first and second-time filmmakers. The award for the winning film includes €50,000, distributed equally between director and Spanish distributor.
SSIFF 2020 Official Competition titles
Akelarre (Sp-Fr-Arg)
Dir. Pablo Agüero
Another Round (Den-Swe-Neth)
Dir. Thomas Vinterberg
Any Crybabies Around? (Jap)
Dir. Takuma Sato
Beginning (Georgia)
Dir. Dea Kulumbegashvili
Courtroom 3H (Sp-US)
Dir. Antonio Méndez Esparza
Crock Of Gold: A Few Rounds With Shane MacGowan (UK)
Dir. Julien Temple
In The Dusk (Lith-Fr-Cze-Port-Serb-Latv)
Dir. Sharunas Bartas
Simple Passion (Fr-Bel)
Dir. Danielle Arbid
Summer Of 85 (Fr)
Dir. François Ozon
Supernova (UK)
Dir. Harry Macqueen
True Mothers (Jap)
Dir. Naomi Kawase
We Will Never Die (Arg)
Dir. Eduardo Crespo
Wuhai (China)
Dir. Ziyang Zhou
SSIFF New Directors 2020
Along The Sea (Jap-Viet)
Dir: Akio Fujimoto
Ane (Sp)
Dir: David Pérez Sañudo
Chupacabra (Rus)
Dir: Grigory Kolomytsev
Death Knell (Sp)
Dir: Imanol Rayo
Grand Écart (Swi)
Dir. Christian Johannes Koch
Gull (S Kor)
Dir: Kim Mi-jo
I Never Cry (Pol-Ire)
Dir: Piotr Domalewski
Last Days Of Spring (Neth-Sp)
Dir: Isabel Lamberti
Limbo (UK)
Dir: Ben Sharrock
Memory House (Braz-Fr)
Dir: João Paulo Miranda Maria
Slow Singing (China)
Dir: Xingyi Dong
Spring Blossom (Fr)
Dir: Suzanne Lindon