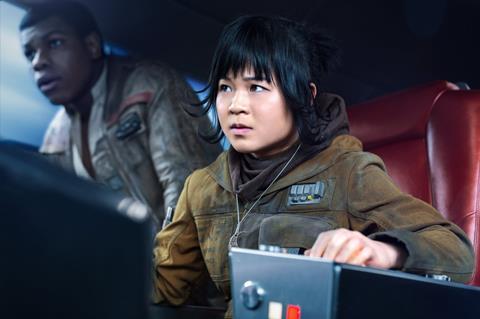 A 7% increase in international box office made up for a 2% decline in the US and Canada in 2017, according to the latest annual report from the Motion Picture Association Of America (MPAA).
The international growth helped push global box office up 5% to $40.6bn last year, with international markets generating $29.5bn and US/Canada $11.1bn.
The MPAA's 2017 Theatrical and Home Entertainment Market Environment report, expanded this year to cover in-home viewing as well as the theatrical business, also showed global home entertainment consumer spending jumping 11% to $47.8bn. Global spending on theatrical and home entertainment combined was up 7.9% at $88.4bn.
In a telephone press conference about the report, MPAA chairman and CEO Charles Rivkin said that at a time of "rapid change" the figures "demonstrate how the entertainment market is strong, it's vibrant and it's expanding on many fronts. Our industry continues to thrive and transform in an ever-changing world and we see a bright future ahead."
In a regional breakdown of the international theatrical market (which accounted for 73% of global box office last year, up from 71% in 2016), the report said takings were up 6% to $16bn in Asia Pacific, up 4% to $10.1bn in Europe, the Middle East and Africa, and up 22% to $3.4bn in Latin America.
The top five international territories by box office were China, up 21% with $7.9bn; Japan with $2bn; the UK with $1.6bn; India with $1.6bn; and South Korea with $1.6bn. Other fast-growing markets were Brazil with 15% and Mexico with 7%.
Asked if the currently brewing trade conflict between the US and China – who have been negotiating a new agreement on films for the past year – was a concern, Rivkin said: "We're very excited about the Chinese marketplace. We have ongoing negotiations and we're hopeful that they'll have a positive outcome."
The dip in US/Canada box office would have been bigger were it not for a 4% rise in average ticket price, the biggest year-on-year increase since 2010. The price increase off-set a 6% drop in the number of admissions to 1.24bn.
In the phone press conference, John Fithian, president and CEO of the National Association of Theatre Owners (NATO), said the figures did not indicate a pattern of decreasing admissions in US/Canada. "Over the last 20 years we've been up in almost as many years as we've been down," he said. "So domestically it is a mature market, a stable market, but the admissions have been relatively constant."
The report's domestic section also shows that two of 2017's top three films skewed female, with the audience for Star Wars: The Last Jedi being 60% male but Beauty And The Beast going 64% female and Wonder Woman 52% female.
The report's home entertainment section reveals that global online video service subscriptions were up 33% to 446.8m, while cable subscriptions were down for a second straight year to 565m.
US digital spending was up 20% to $13.66bn and international digital spending leapt 41% to $18.46bn. Physical spending (on disc rentals and sales) was down 15% in the US to $6.83bn and down 16% internationally to $8.85bn.