X-Men: Days of Future Past is set to dominate the global box office this weekend, opening in 80 international markets over the same weekend it makes its debut in North America.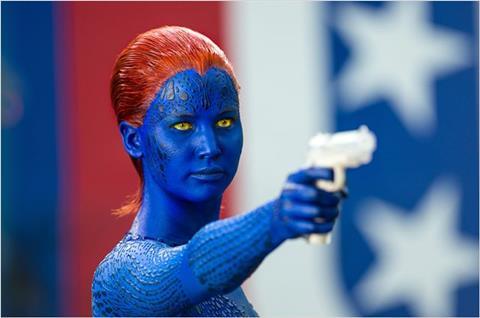 Fox International launched the seventh entry in the X-Men franchise on Wednesday (May 21) in France and on Thurs (May 22) in markets including Australia, Brazil, Germany, Italy, Russia, South Korea and the UK (where a holiday weekend should help to boost the local take).
The comic book-based action adventure arrives in China and Mexico on Friday (May 23).
The global launch is likely to set X-Men: Days of Future Past on course for an impressive box office haul. The sixth X-Men film, The Wolverine, took $87.2m (from 101 markets) over its first weekend in international markets in July 2013 and went on to gross $282.3m from international and $414.8m worldwide.
The franchise's fifth entry, X-Men: First Class, started with an international opening of $61m (from 69 markets) in June 2011 and ended up with $207.2m internationally and $353.6m worldwide.
In North America, Days is expected to open with a take of around $100m over the four days of the Memorial Day holiday weekend.
Also making its international debut this weekend is Adam Sandler/Drew Barrymore comedy Blended, which Warner Bros Pictures International opened in the UK on Friday, day-and-date with the film's North American launch.
Elsewhere this weekend, Universal Pictures International gives Grace of Monaco a limited release in Russia, Her a limited launch in Korea and Ride Along (which had taken $19.1m internationally as of May 19) a release in Italy.
Among holdovers, Godzilla, from Warner Bros Pictures International, is likely to add another big take to an international gross that had reached $135.6m by Friday.
The Amazing Spider-Man 2, from Sony Pictures Releasing International, should see its international tally, which as of Thursday stood at $475.3m, get close to $500m.
Frozen, from Walt Disney Studios Motion Pictures International (WDSMPI), had taken $811.1m internationally as of Thursday and could this weekend overtake Iron Man 3 to become the fifth biggest global earner of all time.
Marvel Studios' Captain America: The Winter Soldier, meanwhile, had reached $453.1m internationally as of Thurs, according to WDSMPI.
Fox International reported international totals as of Tuesday (May 20) of $323.2m for Rio 2, $162.1m (including non-Fox territories) for Mr Peabody & Sherman and $130.8m for The Secret Life of Walter Mitty.
The Grand Budapest Hotel has reached nearly $98m internationally, according to Fox.