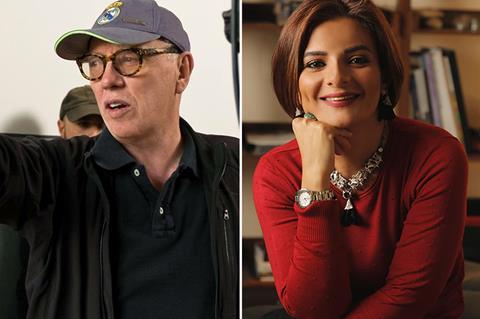 Front Row Filmed Entertainment and Rocket Science's joint Middle East film and TV company Yalla Yalla has signed Oscar-winning writer and director Terry George and celebrated Egyptian writer Mariam Naoum to co-write serial killer series The Alexandria Killings.
Set in the Egyptian city of Alexandria in 1920 when it was under British rule, the drama will revolve around two real-life sisters who pulled themselves out of poverty by running high-class brothels frequented by an influential circle of Egyptian and British officers, informants and statesmen.
When profits from these infamous venues started to flag, they turned to petty crime and began murdering the women working for them for their money and jewellery.
The mainly Arabic-language show inaugurates a planned Middle East and North Africa-based true crime anthology series set in various periods and locations within the Arab world.
Front Row and Yalla Yalla CEO Gianluca Chakra noted that George's interest in the impact of colonialism, which he has explored in past works such as his Oscar-nominated Hotel Rwanda, combined with Nouam's focus on strong female stories would add an extra layer to the series.
"The societal exploration underpinning the murders is unique in that the world has not seen anything of this scale from the Arab world," he said.
Naoum, whose writer credits include films Between Two Seas and One-Zero and TV series Abou Omar El Masry, is also a prominent female rights activist at home.
"I am particularly delighted to be working with renowned Egyptian writer Mariam Naoum to tackle subject matter that while containing all the captivating elements of a legendary crime also encompasses global themes of sexism, jealousy, greed and lost love," said George.
"At this point of my career, I really believe that merging the experiences of the Middle Eastern and western filmmakers is crucial for the industry of filmmaking and it will help perfect the adaptation of the story," commented Naoum.
The show will be produced by Chakra, Rocket Science founder and CEO Thorsten Schumacher, George and Kuwait National Cinema Company CEO and Front Row partner Hisham AlGhanim. Producer and writer Michela Scolari and Emirati producer and director Nayla Al Khaja are on board as executive producers.
Front Row and Rocket Science launched Yalla Yalla in 2019 to create Arabic language content aimed at MENA markets as well as diaspora and international audiences around the world. Other upcoming productions on its slate include an Arabic adaptation of the worldwide box office hit Intouchables.