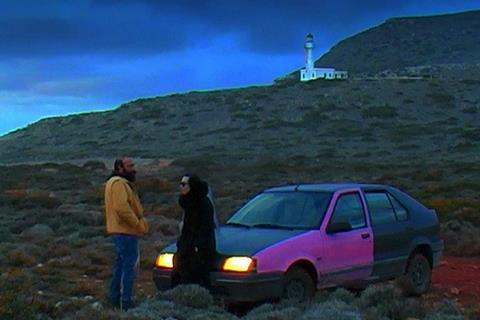 Newcomer Yorgos Gousis's Magnetic Fields and Grigoris Karantinakis' second film Smyrna have dominated the 2022 Iris film awards of the Hellenic Film Academy.
Magnetic Fields won for best film, first- time director, screenplay and best actress prizes, while Smyrna was awarded the trophies for best cinematography, production design and costume design.
Scroll down for the full list of winners
Magnetic Fields is a road movie about a man and a woman who have met by chance on a boat and decide to stick together in search of a suitable place to bury a mysterious metallic box.
It premiered at the Thessaloniki International Film Festival in 2021 and was produced byYorgos Karnavas and Konstantinos Kontovrakis' local powerhouse Heretic.
Meanwhile, Smyrna, starring Rupert Graves, Susan Hampshire, Jane Lapotaire and local star Mimi Denissi, deals with the massacre of the Greek minority population of the Turkish cosmopolitan city of Smyrna in 1922 by the Turkish army. It is produced by Dionyssis Samiotis for Tanweer with Fenia Kossovitsa as co-producer, Joseph Samaan as executive producer and Martin Sherman as associate producer.
With a €4.5m budget, Smyrna is the biggest Greek film ever produced and garnered an impressive 250,000 admissions on its release in December 2021.
First-time director Araceli Lemos was awarded best director for the Locarno 2021 award-winner Holy Emy, about a young Filipina woman searching for the missing links between her strange bleeding condition and her faraway mother's healing powers.
This was the second year in a row the awards ceremony was held in an open-air theatre because of the Covid-19 pandemic.
Iris winners 2022
Best feature film, fiction
Magnetic Fields by Yorgos Gousias
Best feature film, documentary
Days And Nights of Dimitra K. by Eva Stefani
Best feature film, fiction (Greek minority co-production) ex-acqueo
Kostas Lambropoulos,Yorgos Kyriakos, Efi Skrobola and Vasils Tzanidis for .Dog directed by Yianna Americanou
Yorgos Karnavas and Konstantinos Kontovrakis for Feathers directed by Omar El Zohairy
Best director
Araceli Lemos for Holy Emy

Best screenplay
Yorgos Gousis, Antonis Tsitsiopoulos and Elena Topalidou for Magnetic Fields

Best first-time director
Yorgos Gousis for Magnetic Fields
Best actress
Elena Topalidou, Magnetic Fields
Best actor
Lazaros Georgakopoulos, Moon, 66 Questions

Best supporting actress
Hasmine Killip, Holy Emy
Best supporting actor
Aris Servetalis, Pack of Sheep

Best cinematography
Simos Sarketzis, Smyrna
Best editing
Smaro Papevangelou, Moon, 66 Questions
Best music
Lefteris Volanis, Magnetic Fields
Best sound
Leandros Dounis and Roland Heap, Monday by Argyris Papadimitropoulos
Best production design
Ilias Ledakis, Giannis Papadopoulos, Mihalis Samiotis, Smyrna
Best costume design
Fotini Demou, Smyrna