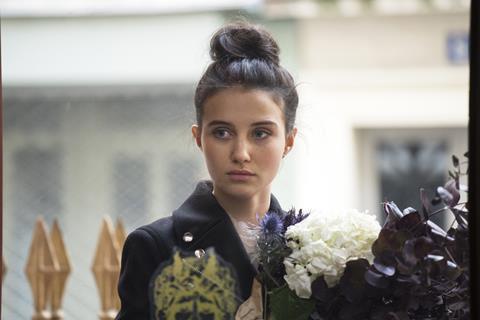 Voltage Pictures has struck key pre-sales on After, an adaptation of the YA publishing phenomenon that marks the first feature from veteran producers Courtney Solomon and Mark Canton's CalMaple Films.
Constantin has acquired German rights, Sun will distribute in Latin America and Spain, and Leone handles Italy. Julia Goldani Telles from Showtime's The Affair and the upcoming Slender Man will star opposite Hero Fiennes Tiffin from Harry Potter And The Half-Blood Prince as the leads.
The partners aim to create a franchise and production is scheduled to begin in Boston next month. Jenny Gage (All This Panic) will direct based on the first in Anna Todd's bestselling five-book series that started out as a serialised story on fan sharing platform Wattpad. Susan McMartin adapted the screenplay with Tamara Chestna, Gage and Tom Betterton.
After centres on the sexual awakening of Tessa, a diligent student dating her high school sweetheart who falls for the brooding rebel Hardin Scott in her first year of university.
Solomon and Canton are producing with Jennifer Gibgot of Offspring Entertainment, Wattpad's Aron Levitz, Todd, and Dennis Pelino from CalMaple. Financiers are CalMaple, Voltage Pictures and Diamond Film Productions.
Meadow Williams and Swen Temmel from Diamond Film Productions will serve as executive producers alongside Adam Shankman of Offspring Entertainment, Voltage's Nicolas Chartier and Jonathan Deckter, CalMaple's Scott Karol, and Wattpad's Eric Lehrman. Solomon and Canton acquired film rights in turnaround from Gibgot and Adam Shankman's Offspring Entertainment, who had the film previously set up at Paramount.
"When Mark and I read the script and then Anna's book, we were super-excited to be involved with bringing this current and timeless story of first love to life," Solomon said. "Jenny Gage has an amazing sensibility and vision for this film and the collaboration with her, Jennifer Gibgot and Anna Todd is going to make a unique, edgy and powerful film."
Todd added, "I couldn't be more thrilled to be working with CalMaple on After and I can't wait for everyone to see Hero and Julia as Hardin and Tessa. When I saw these two incredible actors together, I knew immediately they were meant for these roles – their chemistry and talent is going radiate off the screen. I trust them completely to bring Tessa and Hardin to life."
Gage said, "I am thrilled to be working with CalMaple and Offspring Entertainment to bring Anna Todd's highly emotional story of a young love, sexual awakening and coming of age to the screen. Julia Goldani-Telles and Hero Finnes Tiffin are amazing young actors who I am beyond excited to be working with."