Youth leads with five nominations; A Pigeon Sat On A Branch Reflecting On Existence and The Lobster each have four.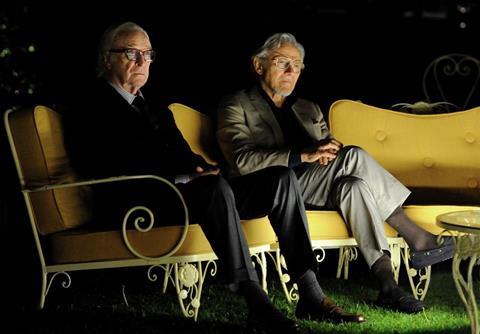 Paulo Sorrentino's Youth leads the nominees for the 28th European Film Awards (EFAs), which will be presented on December 12 in Berlin.
Youth has five nominations including film, directing and screenplay, as well as acting nominations for Rachel Weisz and Michael Caine.
Closely on its heels with four nominations each are Roy Andersson's surreal comedy A Pigeon Sat On A Branch Reflecting On Existence, and Yorgos Lanthimos' The Lobster.
Following with three nominations each are Sebastian Schipper's Victoria and Andrew Haigh's 45 Years.
The noms for the European Film of the Year are Deniz Gamze Erguven's Mustang (France/Turkey) and popular Icelandic drama Rams directed by Grimur Hakonarson.
Documentary nominees are A Syrian Love Story by Sean McAllister; Amy by Asif Kapadia; Dancing With Maria by Ivan Gergolet; The Look of Silence by Joshua Oppenheimer, and Toto and His Sisters by Alexander Nanua.
The nominees were announced at the Seville European Film Festival today, against the stunning backdrop of the Guadalquivir river and cathedral spires behind. The ceremony's biggest cheer was reserved for Spanish actress Laia Costa, nominated for her role in Victoria.
More than 3,000 EFA members will now vote on the winners.
European Film Awards 2015 nominations
EUROPEAN FILM 2015
A PIGEON SAT ON A BRANCH REFLECTING ON EXISTENCE (Sweden, France, Germany, Norway)
WRITTEN & DIRECTED BY: Roy Andersson
PRODUCED BY: Pernilla Sandström
MUSTANG (France, Germany, Turkey)
DIRECTED BY: Deniz Gamze Ergüven
WRITTEN BY: Deniz Gamze Ergüven & Alice Winocour
PRODUCED BY: Charles Gillibert
RAMS (Iceland, Denmark)
WRITTEN & DIRECTED BY: Grímur Hákonarson
PRODUCED BY: Grímar Jónsson
THE LOBSTER (UK, Ireland, Greece, France, Netherlands)
DIRECTED BY: Yorgos Lanthimos
WRITTEN BY: Yorgos Lanthimos & Efthimis Filippou
PRODUCED BY: Ed Guiney, Lee Magiday, Ceci Dempsey & Yorgos Lanthimos
VICTORIA (Germany)
WRITTEN & DIRECTED BY: Sebastian Schipper
PRODUCED BY: Jan Dressler
YOUTH (Italy, France, UK, Switzerland)
WRITTEN & DIRECTED BY: Paolo Sorrentino
PRODUCED BY: Nicola Giuliano, Francesca Cima & Carlotta Calori
EUROPEAN COMEDY 2015:
A PIGEON SAT ON A BRANCH REFLECTING ON EXISTENCE (Sweden, France, Germany, Norway)
WRITTEN & DIRECTED BY: Roy Andersson
PRODUCED BY: Pernilla Sandström
THE BÉLIER FAMILY (France)
DIRECTED BY: Eric Lartigau
WRITTEN BY: Eric Lartigau, Victoria Bedos, Stanislas Carre de Malberg & Thomas Bidegain
PRODUCED BY: Eric Jehelmann, Philippe Rousselet & Stéphane Celerier
THE BRAND NEW TESTAMENT (Belgium, France, Luxembourg)
DIRECTED BY: Jaco Van Dormael
WRITTEN BY: Jaco Van Dormael & Thomas Gunzig
PRODUCED BY: Jaco Van Dormael, Olivier Rausin & Daniel Marquet
EUROPEAN DOCUMENTARY 2015
A SYRIAN LOVE STORY (UK)
DIRECTED BY: Sean McAllister
PRODUCED BY: Elhum Shakerifar
AMY (UK)
DIRECTED BY: Asif Kapadia
PRODUCED BY: James Gay-Rees
DANCING WITH MARIA (Italy, Argentina, Slovenia)
WRITTEN & DIRECTED BY: Ivan Gergolet
PRODUCED BY: Igor Princic, David Rubio & Miha Cernec
THE LOOK OF SILENCE (Denmark, Norway, Indonesia)
DIRECTED BY: Joshua Oppenheimer
PRODUCED BY: Signe Byrge Sørensen
TOTO AND HIS SISTERS (Romania, Hungary)
WRITTEN & DIRECTED BY: Alexander Nanau
PRODUCED BY: Valeriu Nicolae, Hanka Kastelicova, Alexander Nanau, Catalin Mitulescu & Marcian Lazar
EUROPEAN DIRECTOR 2015
Roy Andersson for A PIGEON SAT ON A BRANCH REFLECTING ON EXISTENCE
Yorgos Lanthimos for THE LOBSTER
Nanni Moretti for MY MOTHER
Sebastian Schipper for VICTORIA
Paolo Sorrentino for YOUTH
Małgorzata Szumowska for BODY
EUROPEAN ACTRESS 2015
Margherita Buy in MY MOTHER
Laia Costa in VICTORIA
Charlotte Rampling in 45 YEARS
Alicia Vikander in EX MACHINA
Rachel Weisz in YOUTH
EUROPEAN ACTOR 2015
Michael Caine in YOUTH
Tom Courtenay in 45 YEARS
Colin Farrell in THE LOBSTER
Christian Friedel in 13 MINUTES
Vincent Lindon in THE MEASURE OF A MAN
EUROPEAN SCREENWRITER 2015
Roy Andersson for A PIGEON SAT ON A BRANCH REFLECTING ON EXISTENCE
Alex Garland for EX MACHINA
Andrew Haigh for 45 YEARS
Radu Jude & Florin Lazarescu for AFERIM!
Yorgos Lanthimos & Efthimis Filippou for THE LOBSTER
Paolo Sorrentino for YOUTH