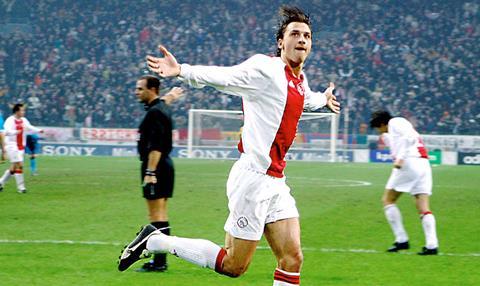 Manchester United footballer Zlatan Ibrahimovic is readying a biopic of his life based on the hit autobiography I Am Zlatan Ibrahimovic, the film's producers have confirmed to Screen.
Iconic striker Ibrahimovic is serving as executive producer on the project, which is being scripted by the book's co-writer David Lagercrantz alongside Jakob Beckman.
Author Lagercrantz is known for writing novels The Girl In The Spider's Web and The Girl Who Takes An Eye For An Eye, the fourth and fifth instalments respectively in the Millenium series. The former is currently in pre-production for Sony Pictures with The Crown's Claire Foy on board to play Lisbeth Salander.
Producers of the currently untitled bio-pic are Stockholm-based production outfit B-Reel Films which recently produced Alicia Vikander and Eva Green drama Euphoria, which debuted at Toronto, and upcoming Ingmar Bergman documentary Bergman.
The film will chart the Swedish striker's challenging early years growing up in a Malmo suburb and touch on his electric stints with football clubs Malmo FF, Ajax and Juventus.
36-year old Ibrahimovic is widely considered to be one of the best footballers of his generation having won 32 major trophies for clubs including Barcelona, Juventus, AC Milan, PSG and Manchester United. The famously maverick character is Sweden's all-time leading goalscorer.
"The core of the story has all the ingredients of a great film and when we have the script we look forward to starting the financing process which will involve international partners", Fredrik Heinig, producer and CEO of B-Reel Films, told Screen.
Lagercrantz gave further detail about the film's plot to Swedish sports paper Sportbladet: "I can confirm that we are writing a script, and I think it can be very good. I have met Zlatan and discussed the project carefully. We are both very excited about this.
"This is a depiction of the making of Zlatan. The upbringing is the central drama of the book: it is the American dream in Sweden.
"The story will involve Zlatan as a young boy in Malmö's suburb Rosengård, as a young teenager and up until his transition to Juventus, involving the underdog rags-to-riches tale that is the story of one of the world's biggest sports profiles".
The footballer and producers will begin the casting process once the script is in place.
Book I Am Zlatan Ibrahimovic has been released in more than 30 countries and sold more than 800,000 copies in Sweden.
Unrelated 2015 documentary Becoming Zlatan previously played at festivals including Edinburgh, IDFA and Goteborg.