Dir/scr. Urszula Antoniak. Netherlands/Ireland, 2009. 85 min.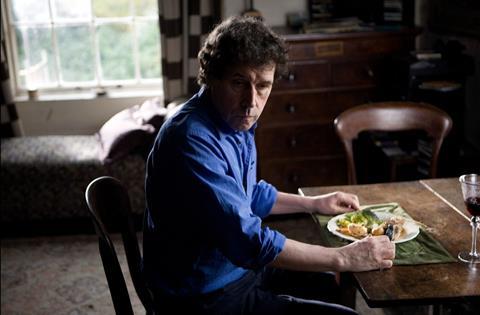 A surprisingly tight debut from Dutch-based Polish director Urszula Antoniak, this slim feature effectively explores the limits of solitude and the need for companionship and human warmth and is bound to travel extensively through festivals and into the arthouse.
This is a highly perceptive portrait
In it, Antoniak pits a fiercely solitary young Dutch female drifter (Verbeek) against a much older and calmer Irish widower (Rea), both determined to protect their independence at any price, and sets them against a backdrop of the austere, empty Galway coast. She delivers in the process a highly perceptive portrait of two human beings, both evidently deeply bruised in their past and resistant to human contact.
The only hint to Anne's (Verbeek) history lies in the film's opening sequence, in which she gazes out the window of her Amsterdam flat as passers-by rummage through the household items she has put on the street. Alone in the empty apartment, she takes off her wedding ring, and, by the next shot, she is already in the inhospitable rainswept Connemara countryside, sleeping in a tent she carries in her rucksack. She seems aimless, hitching lifts and occasionally picking food out of rubbish bins, the scowl on her face keeping strangers away.
One morning she discovers a lone cottage, approaches it tentatively, and encounters its sole occupier, Martin (Rea). She agrees to work for him in exchange for food, but on the basis that there will be no personal contact between them. Initially she carries on sleeping in her tent and arrives in the cottage every morning, refusing to eat breakfast with him or even come into the kitchen. After a while, she moves into an empty room, starts sharing his meals, and her defences start to come down (they find a shared love of music) – but never entirely.
With minimal dialogue and using the harsh, imposing landscape to great effect, Antoniak leads Verbeek, whose face seems to be carved in anger for the first part of the film, through a gradual but almost imperceptible change. The hard, stony stare and the automatic diffidence melt, step by hesitant step and with them the fear of losing her much prized freedom and having to depend, at least partially, on someone else. Stephen Rea cleverly underplays his role to allow this process room to breathe.
In place of words, Daniel Bouquet's camera eloquently expresses the emotions of the piece. Nicely paced to keep melodrama at bay until almost the end, this may initially look like a TV movie but is far better suited for the big screen.
To sign up for Screen's weekly Reviews Newsletter with new releases, international openings and full festival reviews delivered free to your mailbox every Friday, please click HERE

Production Companies
Rinkel Film and TV Productions
VPRO
Producers
Reinier Selen
Edwin van Meurs
International Sales
Bavaria Film International
+49 89 6499 2686
Cinematography
Daniel Bouquet
Editor
Nathalie Alonso Casale
Production design
Jane English
Music
Ethan Rose
Main cast
Lotte Verbeek
Stephen Rea