Dir: Joseph Kosinski. US. 2013. 125mins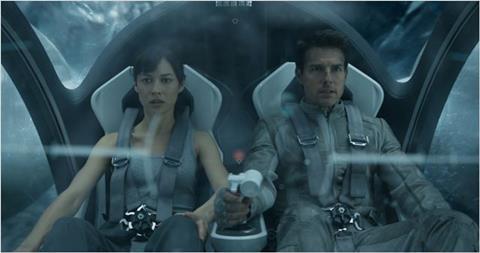 Visually unimpeachable but only modestly successful otherwise, Oblivion further cements the impression that Tron: Legacy director Joseph Kosinski knows how to craft a world — as for interesting humans to populate that world, well, that still proves to be a bit of a stumbling block for him. And yet, the boldness of his vision is enough to mostly compensate for story beats that won't seem that surprising or original for sci-fi fans who may feel like they've seen much of this before, albeit rarely put together this stunningly. Nevertheless, an empathetic central performance from Tom Cruise as a man protecting a post-apocalyptic Earth lends a little soul to a sombre, tense thriller that needs all the heart it can scavenge.
Oblivion is a gorgeous ocular experience, Kosinski working with his Tron: Legacy production designer Darren Gilford and cinematographer Claudio Miranda to create one arresting setting after another.
Opening in the UK on April 10 and most of Europe a few days later — and North America on April 19 — Oblivion won't face serious box office competition until the arrival of Iron Man 3. However, while Cruise's participation will bring in audiences, this Universal offering is a contemplative science-fiction feature that's hardly wall-to-wall action, although Oblivion certainly boasts a few such set pieces. Because the film is not based on a known property and doesn't fit comfortably into familiar genre territory, word-of-mouth may be important to help garner the kinds of grosses the studio is no doubt expecting.
Set in the year 2077, Oblivion introduces us to an Earth that's been decimated by nuclear war, the result of a last-ditch effort by humanity to defeat an invading alien army that had previously destroyed the moon. With most of the remaining population now housed on Saturn's moon of Titan, Jack (Cruise) has been left behind on a floating base to oversee resource extraction from the dying planet with his partner (and lover) Victoria (Andrea Riseborough).
Jack must be on constant high alert during his reconnaissance missions lest he fall prey to vicious alien scavengers that are still residing on Earth's surface. Jack and Victoria are mere weeks away from heading to Titan themselves, but Jack has misgivings about leaving Earth behind, especially because he's plagued by a recurring dream in which he's walking through a pre-war New York City with a beautiful stranger (Olga Kurylenko).
Based on a story by Kosinski, Oblivion recalls several recent and iconic science-fiction films. (To reveal some of these titles could be construed as a spoiler since Oblivion borrows from those movies' twists.) But even in its broad outlines, it's clear that this film is holding some of its cards close to its chest, hinting at Jack's mysterious past that will unlock a secret about his destiny.
As Kosinski showed with Tron: Legacy, Oblivion is strongest when it's operating in purely cinematic terms, mixing striking visuals with soaring electronic music. (A score from the electronic-dance combo Daft Punk boosted his last film. Oblivion has a similar sound, although this time it comes courtesy of M83 frontman Anthony Gonzalez and collaborator Joseph Trapanese.)
As a filmmaker, Kosinski thinks in terms of grand images that will be buttressed by declarative music. Characters don't get developed in compelling ways, but Kosinski offsets that deficiency by consistently choosing evocative framing and reaching for emotional climaxes that stir the audience. His themes — the power of true love, the strength of the human spirit — may be trite, but he wrings them for maximum impact.
The first half of this two-hour film is easily the better half, as Kosinski lays out his world and explores how Jack and Victoria go about their work in this sterile, regimented existence. Part of their duties requires them to occasionally check in with an off-planet supervisor, played by Melissa Leo, whose sunny Southern accent suggests that perhaps she's hiding something underneath her chipper demeanour.
Alas, Oblivion insinuates in several small but somewhat obvious ways that a big discovery awaits Jack (and, by extension, the viewer), building suspense and expectations that the movie never quite satisfies. To keep matters vague, let us say that they involve Morgan Freeman's resistance fighter and Kurylenko's unlikely appearance in the film, but the secrets that these characters hold aren't particularly surprising or thought-provoking.
This is where Cruise comes in quite handy. As an actor, he has an effortless charisma and ability to seem empathetic that's a real blessing for a film that can be solemn to a fault. (On one hand, it's a relief that Oblivion has a grownup weariness devoid of the wise-cracking antics of teen-friendly blockbusters and comic book movies. On the other, the grimness can be stultifying at times.) Cruise portrays Jack as a serious, likeable everyman who has almost a noir-ish bent, jaded by the devastation around him but haunted by a dream he can't unravel. Oblivion could be seen as a detective story with Jack trying to get to the bottom of the nagging questions in his head, and Cruise wisely plays the character with a stripped-down grit.
The other performances tend toward the one-note, particularly Riseborough as Jack's enigmatic partner. With an almost eerily perfect beauty, Riseborough intentionally leaves Victoria cold to the touch, making it impossible to know if she's pursuing her own secret agenda. As for Freeman, his calm gravitas is always welcome, but Oblivion doesn't really push him into any new dramatic terrain.
Shown to critics in IMAX, Oblivion is a gorgeous ocular experience, Kosinski working with his Tron: Legacy production designer Darren Gilford and cinematographer Claudio Miranda to create one arresting setting after another. (Beyond Jack's home in the sky, the movie also features beautiful forests and waterfalls, not to mention barren, destroyed landscapes.) To use the old cliché, the visual ambition of Oblivion is so potent that it becomes a character in the movie. Now Kosinski needs to spend more time giving his actual characters an emotional environment that's just as rich.
Production companies: Relativity Media, Chernin Entertainment, Monolith Pictures, Radical Studios
Domestic distribution: Universal Pictures, http://www.universalpictures.com/
Producers: Joseph Kosinski, Peter Chernin, Dylan Clark, Barry Levine, Duncan Henderson
Executive producers: David Morrison, Jesse Berger, Justin Springer
Screenplay: Karl Gajdusek and Michael DeBruyn, based on the graphic novel original story by Joseph Kosinski
Cinematography: Claudio Miranda
Production design: Darren Gilford
Editor: Richard Francis-Bruce
Music: Anthony Gonzalez and Joseph Trapanese
Website: http://www.oblivionmovie.com/
Main Cast: Tom Cruise, Morgan Freeman, Olga Kurylenko, Andrea Risenborough, Nikolaj Coster-Waldau, Melissa Leo