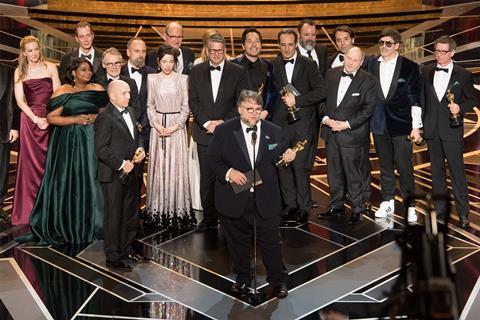 The Shape Of Water won best picture, best director and two other Oscars as a dignified, fiercely proud and often emotional 90th annual Academy Awards ended without scandal or administrative error.
Guillermo del Toro collected the best picture award from Faye Dunaway and Warren Beatty – invited back in a generous touch by the show producers after last year's best picture mix-up – and dedicated the award to "the youth who are showing us how things are done."
Gary Oldman was named best actor for Darkest Hour in the most predictable win of the night, while Frances McDormand won corresponding actress honours for Three Billboards Outside Ebbing, Missouri.
Earlier in the evening del Toro had become the third Mexican director in the last five years to win the best directing award and spoke of his immigrant roots, his love for an industry that erases" the lines in the sand". He reserved special praise for Fox Searchlight, who believed that "a fairy tale about an amphibian god and mute woman done in the style of Douglas Sirk, and a musical and a thriller was a sure bet."
Fittingly for a night when diversity and inclusion was a central theme at the show, del Toro's win means Mexican directors have won in four out of the last five years. Sunday's winner joins Alfonso Cuarón for Gravity in 2014, and Alejandro G Iñárritu for Birdman in 2015, and for The Revenant in 2016.
"I was a kid growing up in Mexico who thought this could never happen," del Toro said in his best picture speech. "It happens. I want to tell you: everyone who is dreaming of a parable of using genre and fantasy to the tell stories about the things that are real in the world today, you can do it. This is a door. Kick it open and come in."
Weinstein reaction
Fierce yet tempered defiance coursed through Sunday's show as the deep-rooted response to the Harvey Weinstein sex scandal dovetailed with passionate and wide-ranging statements related to equality and diversity, and the inevitable pop at the Trump administration so detested within Hollywood.
Jordan Peele won best original screenplay for Get Out and thanked 'my mother who taught me to love in the face of hate." The winner was only the third man to be nominated for best picture, directing, and original screenplay after Warren Beatty for Heaven Can Wait in 1979, and James L Brooks for Terms Of Endearment in 1984.
His award came shortly after an intense interlude that brought the most overt reference of the night to the Hollywood sex scandal. An emotional Annabella Sciorra, who has alleged Harvey Weinstein raped her, was joined on stage by Ashley Judd, who claimed Weinstein sexually harassed her in an exposé last October that opened the floodgates to dozens of allegations against the disgraced former mogul.
"[E]quality, diversity, inclusion and intersectionality – that's what this year has promised us," Judd said. Joined on stage by Salma Hayek, the three women cued up a video segment on equality and diversity featuring contributions from Mira Sorvino – another Weinstein accuser – as well as Ava DuVernay, Lee Daniels, Kumail Nanjiani, Hayek, Barry Jenkins, and others.
Familiar winners
Jane Fonda and Helen Mirren appeared on stage to present best lead actor award to Oldman for Darkest Hour. The British veteran said, "I would just like to salute Sir Winston Churchill, who has been marvellous company on what has been an incredible journey."
Jodie Foster on crutches – prompting a neat gag that Meryl Streep had "Tonya'd" her – and Jennifer Lawrence appeared on stage to present the best lead actress award to McDormand for Three Billboards Outside Ebbing, Missouri. The previous year's best actor winner typically presents the award, however Casey Affleck elected to remove himself from the show so as not to distract with his own involvement in a previous allegation of sexual impropriety.
McDormand, who was highly emotional and possessed of a skittish, eccentric energy, asked every female nominee in the Dolby Theatre to stand up and bask in recognition. "We all have stories to tell and projects we need financed," McDormand said, asking the movers and shakers not to discuss these projects at the post-show parties, but call up in the week and start a serious business conversation. She signed off with two words: "Inclusion rider."
After 14 nominations, Roger Deakins finally won the cinematography Oscar, claiming the award for his work on Blade Runner 2049. "You know, I really love my job," Deakins said. "I've been doing it a long time as you can see. But you know, one of the reasons I really love it is the people I work with, both in front of the camera and behind the camera. Some of my crew on Blade Runner, I've been working with for over thirty years, and others I met for the first time in Budapest. And this is for every one of them, every one of them. In fact, I gotta say it's for us, because it was a team. It was really a team effort.
James Ivory thanked his "fearless producer of close to 50 years" the late Ismail Merchant when he collected the best adapted screenplay Oscar for Call My By Your Name. Allison Janney took to the stage to collect her award for best actress in a supporting role for I, Tonya.
Pixar's Coco won the animation feature Oscar and produced a stirring acceptance speech from director Lee Unkrich, who praised Mexico's "endlessly beautiful culture and traditions," adding: "Marginalised people deserve to feel like they belong. Representation matters."
Chile's A Fantastic Woman by Sebastian Lelio earned a big cheer when it was named best foreign-language film. Immediately after that award. Director Sebastian Lelio thanked "the inspiration for this movie, Daniela Vega. This film was made by a lot of friends and artists; I share this will all of you tonight."
Fox Searchlight's The Shape Of Water – which began the night as the lead contender on 13 nominations – won its first Oscar about an hour into Sunday's 90th annual Academy Awards, earning a production design gong for Paul D. Austerberry, Jeffrey A. Melvin, and Shane Vieau. The fantasy drama followed that up nearly two hours later with the award for best score going to Alexandre Desplat as the ceremony headed into the final furlong. Kristen Anderson-Lopez and Robert Lopez won best song for 'Remember Me' from Coco.
Bryan Fogel's Russian doping scandal film Icarus was named best documentary feature. "We hope Icarus is a wake-up call – yes about Russia, but about telling the truth, now more than ever," Fogel said. Speaking to press backstage, Fogel said of his film's distributor, "Netflix has single‑handedly changed the documentary world. They have given voice to documentary in a way that no company or distributor has ever done before."
The first award of the night at the 90th annual Academy Awards went to Sam Rockwell for best actor in a supporting role for Three Billboards Outside Ebbing, Missouri.
Lee Smith won the best editing Oscar for Dunkirk, which earlier in the evening collected honours for sound editing (Richard King and Alex Gibson), and sound mixing (Gregg Landaker, Gary Rizzo, Mark Weingarten). John Nelson, Gerd Nefzer, Paul Lambert, Richard R. Hoover won the visual effects Oscar for Blade Runner 2049.
The award for makeup and hairstyling was presented to Kazuhiro Tsuji, David Malinowski, Lucy Sibbick for Darkest Hour. Following that in short order was the achievement in costume design, which went to Mark Bridges for Phantom Thread.
In another strong message of support for diversity – not to mention a thinly veiled attack on the Trump administration – presenters Lupita Nyong'o (Black Panther) and Kumail Nanjiani (The Big Sick) referenced their immigrant roots.
"We are dreamers," Nyong'o said, citing the so-called immigrants brought to the US as children whose future hangs in the balance while the courts weigh up the Deferred Action for Childhood Arrivals law. "Dreams are the foundation of Hollywood. And dreams are the foundation of America."
Kimmel jokes
Show host Jimmy Kimmel, in his second consecutive year in the role, kicked off the evening with a reference to last year's best picture mix-up, before referencing the Hollywood sex scandal and speaking in favour of change.
"This year when you hear your name called, don't get up right away," Kimmel said in reference to last year's mix-up when the best picture award was mistakenly presented to La La Land before it correctly went to Moonlight.
On the Weinstein sex scandal, he said: "If we can work together to stop sex harassment in the workplace, women will only have to deal with harassment every other place they will go." He praised the #MeToo and Time's Up movements that sprung up in response to the avalanche of reports and revelations over sexual predators in the industry. "What they're doing it important… this is a night for positivity," Kimmel said.
There was also a mention of the huge discrepancy in pay received by Mark Wahlberg and Michelle Williams in their All The Money In The World reshoot scenes. Noting how both worked for the same agency, Kimmel got a big laugh when he said, "And if you can't trust an agent…" Kimmel reserved words of praise for the success of commercial smash and cultural touchstone Black Panther, and riffed good-naturedly on its box office success at times in the show.
In the short film categories, Kobe Bryant took to the stage to receive the Oscar for his animation short Dear Basketball, on which he served as writer and executive producer. Heaven Is A Traffic Jam On The 405 won best documentary short, and The Silent Child won in the live action category.
Jet ski spot prize
In its annual quest to reverse a gradual ratings decline and end long, often tedious litanies of thanks to people few viewers have ever heard of, the Academy and show producers offered an $18,000 jet ski to the winner who gave the shortest speech. The watersports vessel – paraded during Kimmel's opening monologue by Helen Mirren in glamourous garb – eventually went to Phantom Bridge costume designer Mark Bridges, whose words of thanks clocked in at a trim 30 seconds.
The show tried two other gimmicks. Lakeith Stanfield ran on to the stage dressed as his character from Get Out and riffed with Kimmel, while in another segment the host bantered with a child actor purporting to be his six-year-old self who then proceeded to read out a list of nominees.