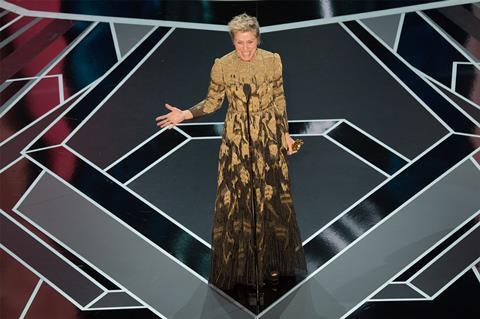 Frances McDormand gave perhaps the most memorable speech at the 2018 Oscars after winning best actress for her performance in Three Billboards Outside Ebbing, Missouri.
At the end of her speech she signed off with: "I have two words to leave with you tonight: inclusion rider."
Later on in the press room McDormand explained that she was referring to a contact clause that requires a diverse crew.
She said: "To everyone that does a negotiation on a film, an inclusion rider means that you can ask for and/or demand at least 50% diversity not only in casting but also the crew. The fact that I've just learned that after 35 years in the film business – we aren't going back."
McDormand kicked off her speech by saying: "If I fall over, pick me up because I've got some things to say", before asking her fellow female Oscar nominees in the room to stand up.
She said: "And now I want to get some perspective. If I may be so honoured as to have all the female nominees nominated in every category stand with me in this room tonight. Meryl, if you do, everyone else will."
After dozens of women stood up, McDormand said: "Look around ladies and gentlemen, because we all have stories to tell and projects we need financed. Don't talk to us about it at the parties, invite us into your office in a couple days or you can come to ours, whichever suits you best, and we'll tell you all about them."