Dir: Ariel Kleiman. Australia. 2014. 97mins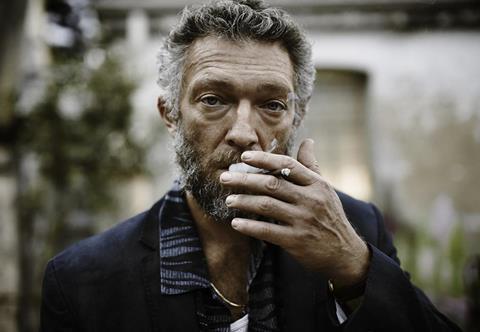 The tension between a father and his wilful son is only intensified when Dad is the leader of a murderous cult in Partisan, an intelligent, controlled drama highlighted by strong performances from Vincent Cassel and newcomer Jeremy Chabriel. Filmmaker Ariel Kleiman (making his feature debut) may not delve deeply enough into the psychology of his fascinating milieu — a utopian commune led by a man who preaches the evils of the outside world while training his flock to kill — but the threat of violence lingers over the proceedings like a dark cloud.
The lead performances are both gripping, Cassel's deceptively quiet manner belying the indiscriminate violence he brazenly unleashes.
Premiering at Sundance in the World Cinema Dramatic Competition, Partisan could attract buyers on the strength of its premise alone: At the art house, cults (and cult-like behaviour) have been a central focus in recent acclaimed indies like Martha Marcy May Marlene, Dogtooth and even The Master. Cassel's marquee value is also a draw, and enthusiastic reviews should further spark audience interest.
Cassel plays Gregori, a handsome, charismatic figure who has systematically built up a closed-off community that has nothing to do with the larger world. Populated by women and their children, this community is run by Gregori, who serves as teacher and inspirational leader to his group of perhaps 30 or so.
The oldest of the children is Alexander (Chabriel), who has just turned 11. When Alexander was born, Gregori met his mother Susanna (Florence Mezzara) in the hospital, bringing them both into the fold. (We suspect this is how Gregori has recruited most of his flock — by preying on the lonely and impressionable.) Even though Alexander is not his son, Gregori views him as his child, putting great expectations on the lad, who loves Gregori but also has an obstinate, playfully disobedient streak.
Partisan soon reveals the disturbing secret of Gregori's brood: He is training the children to be expert shots so that they can go into the nearby town and assassinate specific people. Alexander is the best of the group at this grim task, never questioning his assignments and happy to have his surrogate father's approval. But soon, Alexander will begin to doubt Gregori's infallibility, bringing the two into conflict.
From the outset, Kleiman and co-writer Sarah Cyngler plunge us into this bizarre community, treating its murderous actions with a nonchalance that makes them all the more chilling. (One moment, the kids are learning how to tend a garden. The next, they're having target practice.) Additionally, Partisan never establishes exactly where on the planet we are, which makes the characters' dispassionate behaviour seem even more alien, almost post-apocalyptic. (In truth, the desolate exteriors were shot in Eastern Europe in Georgia, while the interiors were filmed in Victoria, Australia.) Adding to the unsettling ambiguity, there's never an explanation for why Gregori has selected these specific targets to be killed — the kids just knock on a door, confirm the name of the person who answers, and then shoot him or her.
This is rich psychological terrain — not to mention incredibly upsetting considering that we live in a time when small, heavily armed groups of unsuspected fanatics can kill innocent people without warning. With that in mind, Partisan disappoints some because it doesn't choose to fully examine these realities. Gregori preaches to his disciples the wickedness and inequity of the outside world, assuring them that they're better off in their private utopian community. But although Cassel is dynamically understated as the leader, preferring a warm smile to a madman's frothing rant to win over his followers, Kleiman makes this cult almost too generic, robbing it of some of its power to shock or unnerve us.
Then again, as Partisan's story develops, it becomes clear that Kleiman isn't so interested in why people fall under the spell of sociopaths but, rather, how individuals can break free of such mind games. The film soon evolves into a growing standoff between Gregori and Alexander. Though he looks up to Gregori, the boy simply is too much of his own person to give himself over completely to the man's worldview. Kleiman tracks Alexander's slowly building rebelliousness, which starts with small observations of Gregori's hypocrisy but quickly escalates when another boy brazenly challenges Gregori's community lectures. It's here that Partisan moves toward the universal, depicting a familiar father-son tension but immeasurably raising the stakes because of Alexander's environment. In Gregori's world, disobedience is punished far more harshly than with a grounding.
The lead performances are both gripping, Cassel's deceptively quiet manner belying the indiscriminate violence he brazenly unleashes. But the young Chabriel proves a worthy sparring partner. To be sure, Partisan can be a bit pat in its plotting. (Alexander's realisation that Gregori's philosophy is corrupt develops without much inner conflict, reducing the possibility of moral complexity.) But Chabriel's defiant eyes become the film's most resonant image, Alexander locating the resolve within himself to stand up to a man even the community's mothers dare not offend. In Alexander's face, Partisan finds its shred of hope: The only way to vanquish evil is to make the decision not to stand idly by.
Production companies: Screen Australia, Animal Kingdom, Warp Films Australia, Protagonist Pictures, Film Victoria, DDP Studios
International sales: Protagonist Pictures, www.protagonistpictures.com, and UTA, www.unitedtalent.com
Producers: Anna McLeish, Sarah Shaw
Executive producers: Frederick W. Green, Joshua Astrachan, David Kaplan, Nigel Williams
Screenplay: Ariel Kleiman, Sarah Cyngler
Cinematography: Germain McMicking
Editors: Jack Hutchings, Chris Wyatt
Production designer: Steven Jones-Evans, Sarah Cyngler
Music: Daniel Lopatin
Main cast: Vincent Cassel, Jeremy Chabriel, Florence Mezzara