Captain Phillips director Paul Greengrass gives NFTS Masterclass.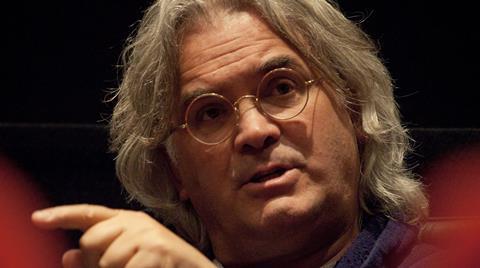 Triple BAFTA winning and Oscar nominated writer-director Paul Greengrass, whose film Captain Phillips opens the London Film Festival next month, took time out to give a Masterclass to students at the National Film and Television School.
Greengrass made his name with controversial documentary-style films such as United 93 about the 9/11 airplane hostages, Stephen Lawrence about a racially motivated murder in London and Bloody Sunday about the Troubles in Northern Ireland before going on to make blockbusters thrillers The Bourne Supremacy and The Bourne Ultimatum, starring Matt Damon.
However, he started his career on the ITV investigative current affairs programme World In Action.
Speaking in conversation with NFTS head of documentary Dick Fontaine, who also worked on World In Action, Greengrass said: "We were there to make trouble. It was a place that prized narrative, character and images. But you were forced to develop a point of view about the world and the kind of films you wanted to make."
He urged young film-makers to do the same, adding that it had taken him a long time to 'find his own voice' in film-making: "Make as many films as you can at first and figure out what is the song that only you can sing. That is the only thing that counts in the end.
"Whatever your style or subject matter, in the end film-making is about searching for authenticity - that is what the audience will divine. It's what you have the opportunity to do at the NFTS and that's really rare."
In his 30s, Greengrass said he lacked the language and the filmic confidence to find his own voice: "I'd been shooting films how I thought grown-ups were supposed to make films, but I was never being brave".
Eventually he decided to only make films he wanted to make, in the way he wanted to make them. Greengrass has since become known as the 'king of handheld'.
"By degrees, and it was hard, I developed the confidence to realise you have to stand naked in the middle of it – the writing, the shooting, the acting."
"Finding my own voice took a long time. I wrote film scripts but they didn't get shot the way I'd imagined them. I then decided I must only make films that I really wanted to make. I took that commitment into making the film Stephen Lawrence about a murder case that at the time wasn't was well known at the time as it is today.
He went on to make the make Bloody Sunday about Northern Ireland, which was praised by critics for being 'an amazing feat of movie making'. Following the success of Stephen Lawrence and Bloody Sunday, Greengrass was invited to Hollywood to make two of the Bourne series of films starring Matt Damon.
"I had been in a safe place with what I was doing and wanted to move out of my comfort zone. I wanted to make a commercial film; that was part of the fun of it - to see if I could make a great thriller. 'Bourne' is a popcorn story about a guy who loses his memory; I loved that character. He's not an order reinforce; he's one of us against them."
Greengrass later made the Oscar nominated United 93 about the 9/11 terrorist attack on an American plane in the hours before it crashed, which he described as, "a film all about what we don't know. In the gap of what people didn't know and struggling to make sense of it, is a growing sense of humanity. Finding intense humanity from dark places."
He also wrote and directed Green Zone, again starring Matt Damon, about the war in Iraq and the search for weapons of mass destruction, which he said had been aimed at at the teenage audience.
Concluding his talk, Greengrass gave this advice to young film-makers: "Not every film will work out perfectly but what matters is that that you find your point of view - the song you need to sing - and then the film will be authentically yours."
An estimated 88 NFTS graduates are credited with key roles in 34 features and short films at this year's BFI London Film Festival, including seven on the Greengrass' Captain Phillips, a Somali pirate hijack drama starring Tom Hanks, which will open the LFF on Oct 9.