EXCLUSIVE: Fatal Attraction director boards script from Captain Phillips writer Billy Ray.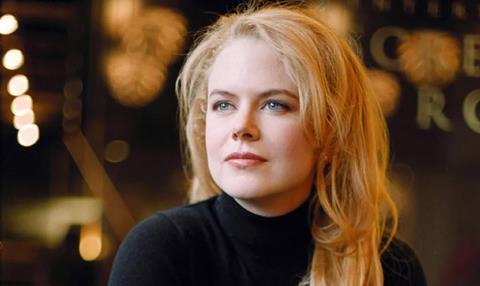 Oscar-nominated Fatal Attraction director Adrian Lyne is set to make his directorial come-back on Nicole Kidman thriller The Silent Wife.
FilmNation has swooped on international sales rights to the package, which is seen as one of the hottest prestige titles heading into the AFM.
In Billy Ray's (Captain Phillips) buzzed-about screenplay, Kidman will play Jodi, a dedicated wife who, despite her husband Todd's frequent indiscretions, continues to play the part with immaculate precision.
When confronted with the brutal truth of him leaving her for a younger woman, Jodi will not accept defeat. What begins as a tragic dissolution of a marriage quickly spirals into a game of cat and mouse with calamitous stakes.
First reported on two years ago, the long-time Kidman passion project - based on the original bestselling book by A.S.A. Harrison - has now got fresh impetus through Oscar-nominee Ray's script and suspense thriller-drama specialist Lyne.
Kidman and Per Saari's Blossom Films (Rabbit Hole) are producing with Paula Mazur and Mitchell Kaplan's Mazur/Kaplan Company (Nim's Island) and Lyne.
Lyne, known for 80's hits including Flashdance and 1990 romance-drama Indecent Proposal, made his last directorial outing on 2002 romance-thriller Unfaithful, which starred Richard Gere and Diane Lane.
CAA, which represents Lyne, Kidman, and Ray, will handle US sales and brokered the deal with FilmNation for the latter to handle international sales.
The production will next look to cast the male lead before a potential 2016 shoot.
"The Silent Wife is reminiscent of thrillers such as Fatal Attraction, Gone Girl and Unfaithful," said Mazur.
"In Adrian's Lyne's masterful hands, audiences can expect to be thrilled and entertained."
Kidman, who stars in Ray's upcoming adaptation of Oscar-winning Spanish-language hit The Secret In Their Eyes, is also represented by attorney Alan Wertheimer at Jackowa Tyerman and Media Talent Group.
Ray is also represented by attorney Peter Nichols at Lichter, Grossman, Nichols, Adler & Feldman. Mazur/Kaplan is represented by Shelley Surpin of Surpin & Mayersohn.
This year, FilmNation has produced Denis Villeneuve's Story Of Your Life, starring Amy Adams, and John Lee Hancock's The Founder with Michael Keaton.
Glen Basner's New York outfit is in development on The Good House, set to star Meryl Streep and Robert De Niro.
Among Blossom's development titles is an adaptation of best-seller Reconstructing Amelia, set at HBO, and a biography of singer Dusty Springfield.
Blossom is partnered with Reese Witherspoon's Pacific Standard Productions on Jean-Marc Vallee's Big Little Lies, a limited HBO series that will begin filming in January of 2016 and star Kidman and Witherspoon.
Book-cenrtic Mazur/Kaplan's development slate includes The Guernsey Literary And Potato Peel Pie Society and All The Bright Places set to star Elle Fanning.