EXCLUSIVE: Open Palm Films launches with Dromgoole-directed drama 'Making Noise Quietly'; first-look image.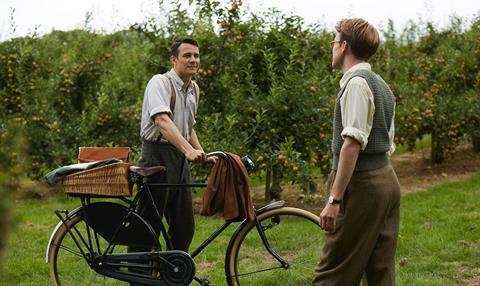 Dominic Dromgoole, former artistic director of London's Globe theatre, has launched film production company Open Palm Films.
The indie outfit has recently wrapped its first production Making Noise Quietly (for which Screen can reveal the first image), a drama which is directed by Dromgoole and is adapted from Robert Holman's well-received stage play of the same name.
The triptych of war-related stories follows a conscientious objector and a roaming artist during the Second World War; a bereaved mother struggling with the loss of her son who died in the Falklands; and an ageing holocaust survivor who seeks to bring peace to a disturbed young boy in Germany.
The film stars Deborah Findlay (The Lady In The Van), Barbara Marten (Oranges and Sunshine), Trystan Gravelle (National Treasure), Geoffrey Streafeild (Rush), Luke Thompson (Dunkirk) and Matthew Tennyson who reprises his role from the stage production, last performed at the Donmar in 2012, for which he won the Evening Standard's most promising newcomer award.
Producers are NFTS graduates Alexandra Breede – who serves as head of production at Open Palm Films - and Jacob Thomas. Shoot took place in Germany, Kent and Yorkshire.
The company is expected to announce a slate of theatrical productions in early 2017, all of which are privately funded.
Dromgoole, who will be following in the footsteps of British theatre directors such as Nicholas Hytner, Sam Mendes and Rufus Norris in transitioning from stage to screen, was artistic director of the Globe – the theatre most closely associated with William Shakespeare - from 2005 to 2016.
During his tenure he directed numerous productions including a world tour of Hamlet (2014-16), which played in 197 countries, and the inaugural production in the Sam Wanamaker Playhouse, The Duchess of Malfi,starring Gemma Arterton.
He also created a VOD platform for the Globe to Screen films and produced and edited The Complete Walk, 37 short films celebrating Shakespeare, ten of which he directed.
Dromgoole said of his feature debut: "Making Noise Quietly is a contemporary classic drama, which has had a distinguished theatrical life, and has long been crying out for cinematic treatment.
"It tells three stories of encounters between strangers, each happening on the edge of conflict. The backdrop for each is distinct and alive with filmic possibilities: the lush beauty of the Kent weald in 1944, the enclosed front room in Redcar in 1982, invoking memories of Terence Davies and the claustrophobic expanse of the Black Forest in 1996. These landscapes, and the stories capacity to allow a powerful insight into the characters' privacy, make for films that seem small but have an expansive resonance, proper chamber epics."