Neil Jordan's big budget Riviera and James Foley's Fifty Shades Freed among productions due to shoot in territory this year.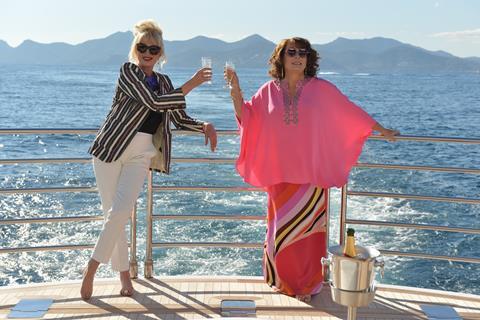 France's National Cinema Centre (CNC) has announced a 30% rise in the amount of production spend by incoming features and high-end TV dramas following the increase in tax incentives for international productions.
The territory's Tax Rebate for International Production (TRIP) rose to 30% from 20% on eligible expenses on Jan 1, 2016, with the cap on eligible spend also rising to $34m (€30m), against $22m (€20m) previously.
The CNC said that in the first quarter of 2016, 19 international live action and animation projects had confirmed they would visit France this year, the same number as for the whole of 2015.
The cinema body estimated that these productions would spend some $142m (€100m) in France, 30% more than in 2015.
Roughly $81m (€72m) would be generated by live action productions, against $13.6m (€12m) in 2015, and €28m by animation projects, against $20m (€18m) last year, the CNC forecast.
Most of the incoming productions hailed from either the US or the UK, with 14 projects from these territories accounting for 89% of spending.
"This considerable increase confirms the strength of the measure put in place with the aim of reinforcing France's attractiveness, both for shoots as well as for its animation and post-production," said CNC president Frédérique Bredin.
Features poised to shoot in France this year include Christopher Nolan's ambitious World War Two drama Dunkirk, reconstructing the evacuation of more than 338,000 allied troops from the beaches of northern France in May 1940.
The IMAX film will shoot in and around Dunkirk this summer.
Indian director Aditya Chopra's romantic comedy drama Befikre – produced by Yash Raj Films – is also gearing up for a Paris shoot this spring.
Other titles to have made successful applications for the TRIP include James Foley's Fifty Shades Freed, Zachary Parris Executable and Hervé Renoh's Chinese-backed thriller The Hunting.
A number of high-end TV series will also set down in France including Neil Jordan's big-budget crime saga Riviera for Sky Atlantic which will shoot mainly in the south of France.
German director Zuli Aladag is heading to the Perigord region for a German-language adaptation of UK writer Martin Walkers Bruno, Chief Of Police crime novels, which are bestsellers in Germany.
Although admired for the excellence of its crews and film and TV services, France has long been regarded as an expensive shooting destination.
The bolstering of the TRIP combined with the fall of the value of the Euro against the dollar over the last 12 months have made it a more feasible location.
Controversial labour law reforms, currently being pushed through parliament, could also boost the territory's attractiveness in the long-term.
In the backdrop, France has also improved its tax credit for local productions – also raising it to 30% against 20% — which has encouraged a number of French productions to remain in the territory.
Most notable among these is Luc Besson's sci-fi saga Valérian, which is currently shooting at the Cité du Cinéma on the edge of Paris.