Producer Didier Brunner talks updating the Oscar-nominated animation into a TV series backed by Canal+ and France Television.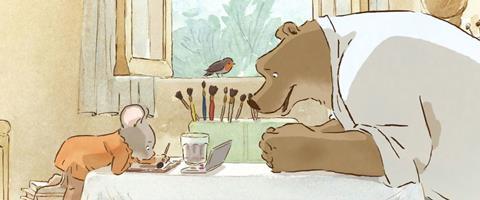 Veteran French producer Didier Brunner (The Triplets Of Belleville) has revealed further details about the TV spin off from his 2012 Oscar-Nominated animated feature, Ernestine & Celestine.
The 26-part series is expected to be ready in September of this year.
Speaking on an Annecy Film Festival panel 'From Feature Film To TV Series (and Vice Versa)', Brunner highlighted the challenges in transforming a hit feature into a small screen series.
"We didn't just want to do Ernest & Celestine 2," Brunner commented.
In order to make the TV series, Brunner acquired what he called "neighbouring rights." He and his team haven't directly adapted the books or film but they have created their own stories.
They don't use any of the original characters other than Ernest and Celestine. "That meant we didn't have to go through negotiations for film rights or book rights."
The books, and the original feature, are considered by many to be "melancholic and nostalgic" but the TV series is intended to be "jollier."
The budget for the original feature was €9.2m and the film was widely praised for the painstaking way in which it recreated the look of the original Gabrielle Vincent books (about the friendship between a bear and a mouse).
Ernest & Celestine is being made in its TV version through Brunner's company Folivari on a smaller budget (around €4.3m) and at a quicker speed than the feature film. Using 3D tools, each animator is expected to turn out eight seconds of footage a day. On the feature film, the rate was under two seconds.
Certain changes have had to be made. The production couldn't afford the services of leading French actor Lambert Wilson (who voiced Ernest in the movie.) The 12-minute TV episodes are targeted specifically at 5 to 7 year-olds rather than the broader family audience which enjoyed the film. Nonetheless, Folivari has gone to extreme lengths to ensure that the episodes stay true to "the style, graphics, spirit and colours" of the movie.
The TV series has been co-directed by Julien Cheng and Jean-Christophe Rogier. Financiers include France Television and Canal + while France 5 will broadcast in France. Brunner and his team have also again been working with Luxembourg partners, Melusine.
The new TV series represents one of Brunner's most ambitious ventures into small screen animation. The producer is being feted at Annecy this year and will receive one of the festival's most prestigious awards, The Cristal.
Brunner has had a glittering career in animation. His credits over the last two decades include Michel Ocelot's Kirkikou And The Sorceress, Sylvain Chomet's The Triplets Of Belleville and Tomm Moore and Nora Twomey's The Secret Of Kells.