EXCLUSIVE: Dancing Ledge Productions developing "biblical Game Of Thrones".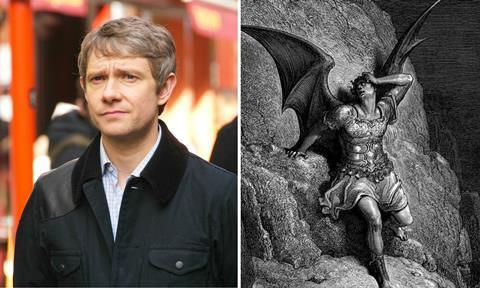 Fremantle-backed indie Dancing Ledge Productions and Sherlock and The Hobbit star Martin Freeman are in early development on what could become the first ever drama series adaptation of one of the most iconic works in literature: John Milton's epic poem Paradise Lost.
Freeman and Dancing Ledge CEO Laurence Bowen are currently discussing the project with writers and broadcasters in the UK and US.
Freeman has a development deal with the fledgling UK film and TV outfit and is on board the project as an executive producer. His participation as an actor has yet to be decided.
The company has signed up Harry Potter, Gravity and Guardians Of The Galaxy post-house Framestore to produce the VFX.
The Eichmann Show producer Bowen told Screen: "Paradise Lost is like a biblical Games of Thrones transporting the reader into an internecine world of political intrigue and incredible violence. At stake? The future of mankind. There's never been a better time for big, original, bold drama series and Martin and I both feel incredibly inspired by the material."
Freeman added: "Paradise Lost is epic, exciting and surprisingly modern. And maybe the first time the devil gets all the best tunes!"
The epic poem, written in blank verse by the 17th-century English poet John Milton, concerns the biblical story of the fall of man: the temptation of Adam and Eve by the fallen angel Satan and their expulsion from the Garden of Eden.
The first version consisted of ten books, which have inspired artists ranging from William Blake to Salvador Dali.
More recently, Paradise Lost comes into play in the third season of Marvel's Agents of S.H.I.E.L.D., with strong references to the book including an episode named after it.
It was a model for aspects of 1997 feature The Devil's Advocate, starring Keanu Reeves and Al Pacino, while a big budget 2012 feature adaptation from Legendary was set to star Bradley Cooper and Casey Affleck but fell apart before production.
The iconic work was also one of the prime inspirations for Philip Pullman's trilogy of novels His Dark Materials and also influenced aspects of Neil Gaiman's Sandman series.
Milton followed the poem with another epic in the shape of Paradise Regained.
Dancing Ledge recently completed shooting new comedy series Porters for Dave and UKTV with Susan Wokoma (Chewing Gum), Rutger Hauer (Blade Runner), Claudia Jessie (Line of Duty), and stand up Edward Easton.
It also recently announced the commission of its first US-based series Super Sensitives, from Transparent writer Faith Soloway.
Dancing Ledge chief executive Laurence Bowen and writer in residence Lauren Sequeira are speaking alongside FremantleMedia at MBI's Media Production Show tomorrow (13 June). Click for more.