EXCLUSIVE: Redford, Chan to narrate English and Mandarin versions of BBC documentary sequel; Goldcrest handles sales.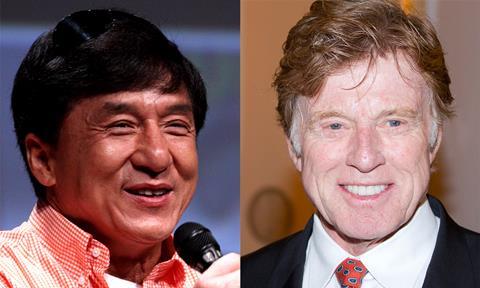 Robert Redford and Jackie Chan have been set to narrate the English and Mandarin versions of documentary Earth: One Amazing Day, the sequel to 2007 box office hit Earth.
Directed by Peter Webber (The Girl With The Pearl Earring) and Richard Dale (The Human Body) the film is currently in post-production at the BBC Earth Films' studio.
Script comes from Frank Cottrell-Boyce (The Railway Man) while score is overseen by Alex Heffes (The Last King Of Scotland).
The Mandarin-language version will be co-directed by Lixin Fan (Last Train); screenwriter Geling Yan (Flowers of War) and music producer Roc Chen (Chinese music consultant on Kung Fu Panda 3) are also on board.
The film will tell the story of one day in the life of the planet, "celebrating the billions of real-life dramas that occur in the natural world every day".
A co-production between BBC Earth Films (as Earth Film Productions Limited) and Chinese outfit SMG Pictures, it is one of the first to be produced under the UK-China film co-production treaty.
Stephen McDonogh (Walking With Dinosaurs) produces.
Goldcrest Films and BBC Worldwide handle world sales. Goldcrest handles in US, where the original made more than $30m, and France, where it scored more than $11m.
The company will host a private screening of the project at the EFM in Berlin this week.
The original film took $112m at the global box office, making it the second highest-grossing nature documentary, behind March Of The Penguins, and seventh on the all-time worldwide documentary chart.
Producer Stephen McDonogh said: "Robert Redford and Jackie Chan each lending their voices to the film is the icing on the cake for what is already a formidable international talent line up on this world class film. Their storytelling will further captivate the hearts and minds of audiences, by bringing them closer to wilds of nature in this extraordinary cinematic journey across the natural world all in a single day."
Pascal Degove, managing director of Goldcrest Films added: "The response to this project has been phenomenal. It's clear BBC Earth Films are delivering the kind of cutting edge, big screen adventure for which they are globally renowned. Such heavy-weight additions to the already extraordinary creative team will serve to ensure this film is capable of resonating with the widest possible family audiences."