Dir/scr. Penny Woolcock. UK. 2009. 101 mins.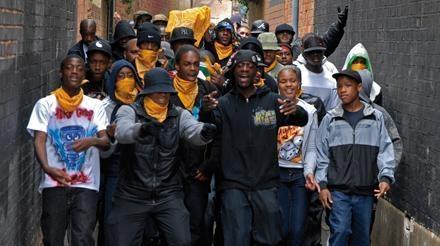 There's so much life in 1 Day, a film about gangs and shootings and death. The force of energy behind this rap musical set on Birmingham's estates actually propels it past two large hurdles – that this is yet another film about a day in the life of a drug dealer, and that the dialogue is a Jamaican-Brummie patois which is nigh-on incomprehensible to the outsider.
Acting runs the range you'd expect from an entirely non-professional cast, with most acquitting themselves well
Subtitles aren't cool, but they may be necessary if 1 Day has any hopes of bursting out of the ghetto. This stands a good chance of making a dent theatrically in UK urban outlets where its fresh voice will be immediately recognisable as relevant to a young audience. It may clunk around awkwardly at times – a rap at a graveside was always going to be hard to pull off - but 1 Day is brash and brave and ultimately hard to resist. It feels so much like a co-operative effort by the cast – all non-professional – that it's easy to forget Penny Woolcock (middle aged, white, Exodus) is behind this burst of black noise.
With angry hip hop/grime tracks from Urban Monk, Jaw Bone and Ma Starkey, 1 Day channels West Side Story (via The Wire, 8 Mile, Shifty, etc) in its tale of two rival gangs, The Old Street Crew and the Zampa Boys, and one besieged drug dealer, Flash (Duffus, excellent, once you're attuned to what he is saying).
After a thumping live rap opens the proceedings with the metal-toothed mobsters menacing each other down back alleys, Flash is depicted cooking up crack while looking after one of his many infants by his three "babymothers". He takes a phone call from Angel (Watson) who is about to be released from prison and wants his £500k back.
Now Flash is in a race against the clock to return the cash to the scary Angel, forcing him into an uneasy deal with the dodgy Evil (Duncan). En route, he picks up a small boy called Pest (Whyte), who has been abandoned by his crack addict mother, and runs into his hilarious granny (Ffrench), which also leads to a telling off from the local vicar.
Fortunately, one of the film's bigger drawbacks – the familiarity of its plot – ends up being 1 Day's saving grace, because anything more complicated would be lost in the slang-filled dialogue. An uneven ride awaits those who stay the 101 minute course; there are times when 1 Day feels like an honourable misfire, and others where the viewer is fully behind these in-your-face protagonists.
An aggressive soundtrack punctuates 1 Day – the cast does sing to camera – and some tracks come across better than others. One, set in a diner (What You Looking At), isn't the most sophisticated take on race relations, but it's ultimately effective ("If you hate me, then I hate you".) Others, between the three baby-mothers in particular, interrupt the action and stall momentum, which, by the end, is picking up quite nicely.
Acting runs the range you'd expect from an entirely non-professional cast, with most acquitting themselves well. Technical credits are good for the budget range, and the repeated use of aerial shots of Birmingham gives an almost calming perspective to the drama taking place below.
Ultimately, and despite its set-up, 1 Day is saying something new and its message sadly isn't hopeful. It does sound an optimistic note for UK cinema, however; the more voices the merrier after all - and these newcomers certainly have loud ones.
To sign up for Screen's weekly Reviews Newsletter with all the week's new releases, international openings and full festival reviews delivered free to your mailbox every Friday, please click HERE
Production company/international sales
Blast! Films
+ 44 (0) 207 267 4260
Producers
Penny Woolcock
Amy Flanagan
Claire Bosworth
Cinematography
Graham Smith
Editor
John Dinwoodie
Sound
Alex Hirst
Composer
Urban Monk
Costume designer
Nathania Atkinson
Main cast
Dylan Duffas
Orhan Whyte
Yohance Watson
Tobias Duncan
Monica Ffrench
Carol Chambers
Bishop Derek Webley