Dirs, scr: Jean-Marie Larrieu, Arnaud Larrieu. France. 2015. 116 mins.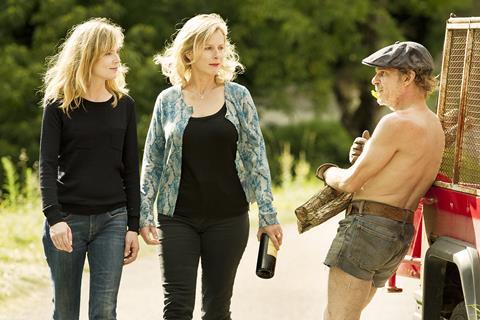 The Larrieu brothers return to their home territory in the mountain villages of Languedoc with this fresh, shape-shifting midsummer night's sex and death comedy, about a young woman dealing with the passing of a mother she hardly knew while confronting her own frustrated sexuality. The most intriguing and original feature they've written and directed in a career spanning almost twenty years, 21 Nights With Pattie is a sometimes hilarious, sometimes dreamlike combination of women's story, erotic farce and ghost tale, set in a rural France that acts as a sort of existential and sexual staging post, rather like Shakespeare's enchanted wood.
This is an intelligent, sensitive, good-looking, sexually frank Gallic comedy
It's too long by at least quarter of an hour, getting lost in the forest around two-thirds of the way in as the script tries, not always successfully, to follow the various narrative breadcrumb trails it scattered in the engaging first half. But the directors' deft command of the comedy-spiked magical realist tone, and enjoyable performances by Isabelle Carre and Karen Viard – who together carry a film in which men are fringe players – help to drag us through the fidgety stretches.
After its competition premiere in San Sebastian and further festival airings in London and Angouleme, Pattie will be released in France in November, and should interest arthouse distributors in other territories looking to leaven the heavier fare on their slates with an intelligent, sensitive, good-looking, sexually frank Gallic comedy.
From the moment we first see Caroline (Carre) walking gauchely down the path to a gorgeously rentable country house with pool in the woods, we realise she's a bit of a klutz with self-esteem problems. The house belonged to her mother, a globetrotting lawyer who Caroline hardly knew, and who's now lying dead in one of the upstairs bedrooms, with the funeral planned for the following day.
A lesser narrative would have had Caroline gradually piecing together her mother's backstory from those who knew her, like busty, extrovert housekeeper Pattie (Viard). But we never even really discover why Caroline and her mother became estranged. Instead, Pattie's revelations are of a quite different nature, as she begins to regale the embarrassed daughter of her former employer with long, explicit, hilarious stories of the local men she, Pattie, has slept with.
We're as shocked as Caroline at the lurch into broad comedy in what appers to be a bereavement drama; but it's difficult to resist Viard's exuberant account of Pattie as a woman who takes enormous delight in her own sexuality, not to mention her way with words (especially anatomical ones).
Caroline eventually confesses to Pattie that she is sexually frustrated in her marriage to the overbearing Manuel (Lopez), with whom she has two daughters (all three seen, at first, only in a couple of fleeting Skype conversations). But by this time we've had to recalibrate our expectations once again. All had seemed set for the more confident, experienced Pattie to guide her repressed new friend towards an erotic epiphany with one of several possible local lotharios – until events take an unexpected lurch into mystery territory, coinciding with the arrival of an elegant older gent, Jean (Dussollier), who claims to be an old friend of Caroline's mother.
Set among the villages perchés of the Aude department, 21 Nights with Pattie takes Caroline into a strange new world whose Occitan dialect she barely understands, a place where phallic mushrooms grow in the woods and village fetes are entered by running gauntlets of masked revellers. DoP Ressigeac's beautifully lit photography, dominated by strong light and shade contrasts at first but later mellowing with Caroline herself, makes inventive use of the film's boxy Academy ratio, while a soundtrack that mixes vintage blues with some lovely country dance band numbers brings a touch of the American Deep South to a remote French village.
Production companies: Arena Films, Pyramide Productions
International sales: Pathe International, themba.bhebhe@pathe.com
Producers: Bruno Pesery, Francis Boespflug, Claire Trinquet
Cinematography: Yannick Ressigeac
Editor: Annette Dutertre
Production designer: Stephane Levy
Music: Nicolas Repac
Main cast: Isabelle Carre, Karin Viard, Andre Dussollier, Sergi Lopez, Laurent Poitrenaux, Denis Lavant, Philippe Rebbot, Jules Ritmanic, Mathilde Monnier