A real-life California court case forms the basis of Bille August's drama starring Hilary Swank and Helena Bonham Carter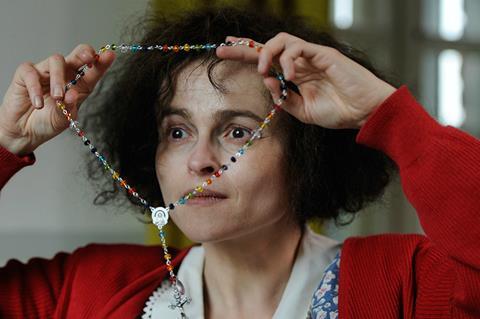 Dir. Bille August. Germany/Belgium. 2017. 115mins
Based on a 1980s California court case involving the rights of psychiatric patients to decide whether or not to be medicated, 55 Steps is a well-meaning drama that can't escape the conventionality of its execution. Hilary Swank and Jeffrey Tambor are affecting as lawyers fighting for their client, played by Helena Bonham Carter, and the subject matter certainly lends itself to emotional moments. Still, one wishes that director Bille August had been bolder with the material and resisted adhering to a predictable triumph-against-the-odds narrative.
Hilary Swank and Jeffrey Tambor wisely avoid the temptation to grandstand, playing their characters with restraint and eschewing showy monologues
Premiering at the Toronto Film Festival, 55 Steps will benefit from its cast's star power, and although this legal case isn't well known, the familiar underdog scenario ought to appeal to mainstream audiences. But in a season full of award hopefuls, 55 Steps may find the going tough.
The film, which begins in 1985, stars Bonham Carter as Eleanor, a woman with mental disabilities locked up in a San Francisco facility. Furious that she is being forced to take medications she's convinced do more harm than good, she reaches out to Colette (Swank), an advocacy lawyer, to win her release and sue the hospital. Working with an older colleague, Mort (Tambor), Colette prepares to argue that Eleanor and other psychiatric patients should be allowed control over what is put into their bodies.
55 Steps is an eminently empathetic drama simply because of its setup, which pits two righteous attorneys and their goodhearted but mentally disabled client against a uncaring bureaucracy. But August and screenwriter Mark Bruce Rosin do very little with that David-versus-Goliath scenario that hasn't been explored and exhausted in myriad other true-life courtroom dramas.
That is a shame considering how heartfelt the performances are. Swank and Tambor wisely avoid the temptation to grandstand, playing their characters with restraint and eschewing showy monologues. But even here, 55 Steps can't offer a fresh spin on a familiar scenario, succumbing to cliché. In perfect diametric opposition to her buttoned-down attorneys, Eleanor is volatile and irrational, her disabilities leaving her childlike in both her sweetness and emotional immaturity. As one might guess, the more time that the workaholic Colette spends with the free-spirited Eleanor, the more they become friends — Colette even learns life lessons from her seemingly unstable client.
Bonham Carter plays Eleanor with the same oversized brio she's brought to plenty of recent Tim Burton films, which have often capitalised on her ability to seem unhinged. In 55 Steps, where she plays a woman with legitimate developmental and psychological problems, her fervour certainly makes Eleanor's problems believable. But Bonham Carter's transformation never feels organic — it's more a collection of actor-ly ideas than a fully-formed person.
55 Steps promises to offer a realistic look at how psychiatric patients are failed by a medical establishment that too easily tries to drug them into submission rather than really caring for them. But the filmmakers struggle to make the specifics of Eleanor's lawsuit — which could affect 150,000 similar California patients — particularly fascinating. Plus, the movie's cardboard villains, played by unsmiling lawyers and arrogant doctors, keep Colette and Mort's battle all the way up to the California Supreme Court from being as satisfying as it should be. For a film about a landmark court case whose outcome was far from certain, 55 Steps resolves itself a little too neatly.
Production companies: Elsani Film, Potemkino Port, MMC Movies Köln,BNP Paribas Fortis Film Finance, Mass Hysteria Entertainment, Aloe Entertainment, ChickFlicks
International sales: Atlas International Film, mvandewalle@atlasfilm.com, mail@atlasfilm.com
Producers: Anita Elsani, Sara Risher, Mark Bruce Rosin, Lesley Neary, Lesley Neary, Laurie Shearing
Executive producers: Helena Bonham Carter, Hilary Swank, Daniel Grodnik, Mary Aloe, Jürgen Grethler, Nicola Van Gelder, Stuart Berton, Ger Wiersma, Rolf Schübel, Iris Dugow
Screenplay: Mark Bruce Rosin
Cinematography: Filip Zumbrunn
Production design: Merijn Sep
Editor: Hansjörg Weißbrich
Music: Annette Focks
Main Cast: Helena Bonham Carter, Hilary Swank, Johan Heldenbergh, Cynthia Hoppenfeld, Jeffrey Tambor