Director: Luca Guadagnino. It, 2015. 125 mins.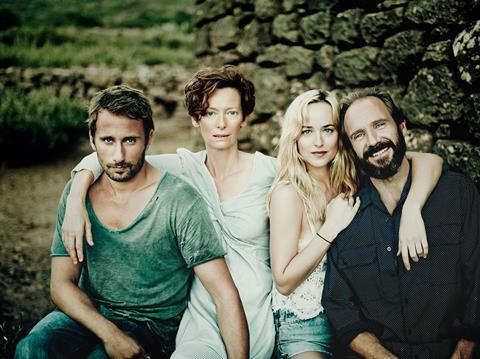 In this overlong remake of cult 1969 drama La Piscine, Italian director Luca Guadagnino, treading water after the classy, well-received I Am Love, drains all the smouldering Gallic passion and sexual jealousy out of the pool. What he replaces it with is too shallow for us to risk diving in: a slight story that aspires to be a thriller but ends up as a rather flat melodrama about a rock-star generation struggling to deal with its twilight years.
Whether it's the fault of Schoenaerts (not at his best here) or the script, we fail to connect with the introverted Paul, despite some backstory leverage
A Bigger Splash has its pleasures – the edgy setting on the lava-strewn Mediterranean island of Pantelleria, a collectable performance by Ralph Fiennes as a coked-up ageing record producer, one or two scenes that briefly galvanise the drama. That may be enough, with the bankable cast, to propel the film to respectable limited-release action when it finally opens (Fox Searchlight has pegged the film for a May 2016 release in the US, nearly a year after its Venice competition debut). But much of the time it seems to be going through the motions, making up for its macro script problems with micro style flourishes, flashy zooms and pans that pay empty homage to swinging sixties camera choreography. Even the choice of the film's title – a nod at David Hockney's famous 1967 painting – seems a gratuitous cultural name-check.
Swinton plays Marianne Lane, an androgynous rock star who has been through both David Bowie and Chrissie Hynde phases, to judge by the concert flashbacks that pepper the film. We first see her canoodling in a rented peasant-chic Pantelleria villa with hunky partner Paul (Schoenaerts), who is nursing her through a convalescence after a throat operation that means she can only talk in a whisper. Soon Fiennes' voluble, live-wire character Harry erupts onto the scene, arriving on the island with Penny (Johnson, the sultry blonde daughter who only found out he was her dad a year earlier, and who seems to be a little too intimate with pa for comfort. Harry, we gradually learn, was Marianne's lover (and enabler) during her wild years, and it was he who pushed his friend, taciturn cameraman and documentary director Paul, to start a relationship with her.
Marianne and (especially) Paul are clearly annoyed at having their romantic summer idyll invaded, with Marianne opting out of dealing with it by pretending to Harry and Penny that she's lost her voice entirely. The effusive Harry's technique is simply to talk and charm them into submission, partly by flaunting his inside knowledge of an island where he seems to know everybody; when finally the invitation to stay at the villa comes, he blurts out "That took for ever!", while Penny coolly asks if there's a pool – one of the few successful examples of the film's stabs at comedy. What follows probably played edgier and tenser on paper than it does on the screen: a dramatic dance between four people, each with his or her own agenda, pent up in a fashionable summer retreat.
It's obvious from the get-go that Harry wants to claim back the woman he threw in the way of his friend, and equally clear that Penny, the loose cannon in the arsenal, will make a play for dishy Paul. Whether it's the fault of Schoenaerts (not at his best here) or the script, we fail to connect with the introverted Paul, despite some backstory leverage, or believe much in the growing alpha-male rivalry between him and Harry that is at the heart of the drama. For once, Guadagnino's regular muse Swinton seems miscast too, her asexual aura difficult to shoehorn into a character whose mature eroticism is supposed to act as a foil for Penny's more brazen provocations.
The Rolling Stones' music looms large not only on the soundtrack but in the plot as well, with Harry boasting about his involvement in the creation of a track on the Voodoo Lounge album, while his frenetic dance to the Stones song Emotional Rescue is a standout moment. Visually, A Bigger Splash makes much of the dwarf palms, prickly pears, terraced vineyards and black lava-flow landscapes of Pantelleria, as well as the scrappy post-war development of its main port town.
But in one important sense the primitive majesty of the setting plays against our engagement, making the problems of four over-privileged people seem as insignificant as a salted caper, and far less tasty. Curiously, also, this Italian director seems content to trade in southern Italian stereotypes, as encapsulated in an embarrassing Carabinieri investigator who appears towards the end. One wishes, too, that the film had left the Mediterranean migrant crisis (more pressing on Pantelleria's neigbouring island Lampedusa) out of the film; the brief nods the script make to it seem at best dutiful, at worst exploitative.
Production companies: Frenesy Film
International sales: Studio Canal, Jane.carter@studiocanal.com
Producers: Michael Costigan, Luca Guadagnino
Executive producers: Marco Morabito, David Kajganich, Olivier Courson, Ron Halpern
Screenplay: David Kajganich
Cinematography: Yorick Le Saux
Editor: Walter Fasano
Production designer: Maria Djurkovic
Main cast: Ralph Fiennes, Tilda Swinton, Dakota Johnson, Matthias Schoenaerts