A single mother and her uptight teenage daughter must deal with an unexpected pregnancy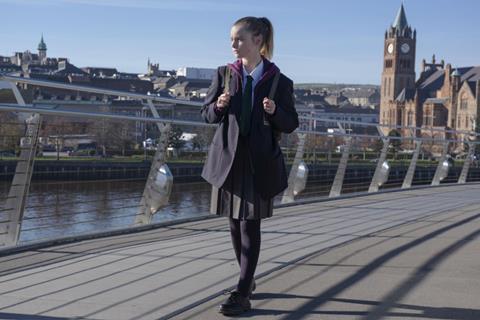 Dir. Shelly Love. UK/Ireland. 2019. 95mins
A rambunctious middle-aged single mother of an insecure teenage girl becomes pregnant by a man half her age in the entertaining yet unexpectedly heart-stabbing A Bump Along The Way. What starts out as a low-budget, Derry-set broad comedy takes a poignant detour through the subtle and unsubtle bullying of women of all ages to emerge as a rewarding mother-daughter romance.
Bronagh Gallagher gives a sympathetic portrayal of a woman who tries her best in challenging circumstances
Winner of Best Irish First Feature at Galway's Film Fleadh, and due for release in Ireland on August 30 through Element (which also holds UK rights), this is the product of a Northern Ireland Screen production initiative to find first-time writing, directing and producing talent. The effort has paid dividends with a fresh, cheeky, all-female take on the rom-com EP'd by Roma Downey. While it is possibly too broad for the festival circuit outside of Irish-themed events, streaming services should take note. There's also remake potential.
Fully funded by Northern Ireland Screen, A Bump…. stars Bronagh Gallagher and is produced by her sister Louise from a script by Tess McGowan, who wrote it while pregnant. Director Shelly Love, herself a single mother, brought her own perspective to this nicely-packaged story which isn't afraid to bring viewers to the brink. A notable performance by young Irish actor Lola Pettigrew (which saw her take home Galway's New Talent award) lends the film an undeniable poignancy as her character, Allegra, grapples with an embarrassing, pregnant mother and the social pressures which come from being lonely and unpopular at school.
There's a light irreverence to Irish comedy on screen – North and South - which sets it apart from its heavier sibling across the sea, as witnessed by recent hits Metal Heart or The Young Offenders and, on the small screen, Derry Girls and Moone Boy. A Bump… sets Pamela (Gallagher) up as a boozily-ageing Irish version of Bridget Jones who gets incredibly smashed on her 44th birthday and has unprotected sex in Barry the Plumber's van after a night that encompassed "six bottles of prosecco and a feed of gin and tonics" with her girlfriends. Pamela's epic hangover isn't a news to censorious 15 year-old vegan Allegra, who blames Pamela for her bullying father's disappearance and, as with many teenagers, for pretty much everything from poor nutrition choices to her own unpopularity and epic awkwardness at school.
As a healthy riposte to the usual rom-com template, no man is set up to rescue Allegra or Pamela, who are both routinely bullied, with one of Pamela's chief tormentors being her own miserable, confused daughter. Still, though, it's always clear that this mother-daughter love story will resolve itself even if the script and direction hints at darker possibilities.
Gallagher, a mainstay of Irish cinema (and music) since her scene-stealing appearance in The Commitments, gives a sympathetic portrayal of a woman who tries her best in challenging circumstances. Design decisions emphasise Pamela's brazen, cheerful, Betty Boop, appearance – all dyed black hair, bright lipstick and leopardskin – as a contrast against the dinged reality of a woman who has been bullied by everyone in her life, from her mother on down to her increasingly imperilled daughter.
Production companies: Bump Films, Gallagher Films
Contact: Northern Ireland Screen, info@northernirelandscreen.co.uk
Producer: Louise Gallagher
Screenplay: Tess McGowan
Cinematography: Mark McCauley
Editing: Helen Sheridan
Production design: Patrick Creighton
Music: Die Hexen
Main cast: Bronagh Gallagher, Lola Pettigrew, Mary Moulds