A pregnant woman finds herself caught between her unhappy mother and homosexual father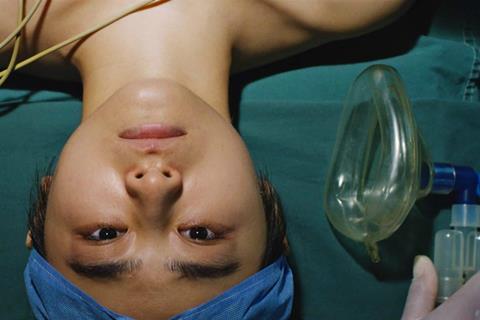 Dir/prod/ed: Xiang Zi. China-Spain. 2019. 107mins
'Dog Barking At The Moon' is the name of a famous Joan Miro painting from 1926. In it, there is a ladder: potential escape. Talented young Chinese director Xiang Zi's film of the same name, which won the Teddy prize at Berlin for LGBT-themed features, provides no such get-out for its principals. And in the absence of a ladder, the dog is simply barking at a thing that doesn't see it.
Classically composed framing places the characters in constant tension
Although this Dog increasingly runs around in the same circles, Zi demonstrates with her debut that she is a name to watch. As her film moves towards its conclusion, she seems to grow in confidence, deftly inserting some unexpected touches: a stage set that breaks the fourth wall, or mythical creatures who come to life to take quiet vengeance. These lift Dog out of a rather moribund series of increasingly uncomfortable interiors. That, and the most awful screen mother since Joan Crawford wielded a wire hanger, should see Dog travel to further festivals, both LGBT-themed and otherwise.
This is no Joy Luck Club. Juimei (veteran Mongolian actress Naren Hua) and husband welcome their pregnant daughter Xiaoyu (Nan Ji) and her foreign husband Benjamin (Thomas Fiquet) back home, where she prepares a meal and complains about the new family dog, Patton. He is an ungrateful hound who barks at the moon and prefers her husband Huang Tao (Wu Renyuan), she complains. And, addressing Xiaoyu, who is now a successful writer, she adds, tartly: "He reminds me of you."
There is no doubting that Juimei is angry. But, with no filter, she is also a horrendous harpy. "I haven't had a happy day since your birth," she later adds. The source of her discontent is her husband's homosexuality, which even now she attributes to "mental illness". There is also bitter and never-ending regret over a male child she aborted — possibly as a result of China's one-child policy.
Refusing a divorce, and with a husband who pays her no attention, she unleashes all her bitterness and bad temper at her daughter. Repeated flashbacks make it clear this vindictiveness has gone on for years, yet Xiaoyu still tries to find a solution, and her parents carry on stewing in their own discontent, the sources of which are also revealed in flashback.
Having set out its cards, Dog struggles to find a way of playing them. Scenes of Junmei being an unmitigated termagant begin to lose their power, and a side-plot in which she becomes seduced by a so-called 'Buddhist' cult has a tendency to repeat itself. It is only when Zi begins to introduce her visual flourishes that Dog nips back to life. Throughout, this is an attractive package. Classically composed framing places the characters in constant tension, while rich colours reverberate into the silence. The dialogue is often lyrical, while the music is nicely judged.
Production companies Granadian, Acorn Studio
International sales Granadian, jose.valbal@granadian.com
Cinematography
Jose Val Bal
Production design Zhang Chen
Music Juan Escudero
Main cast Naren Hua, Nan Ji, Zhang Xinue, Wu Renyuan, Thomas Fiquet