Dir. Roger Spottiswoode. UK, 2016, 102 mins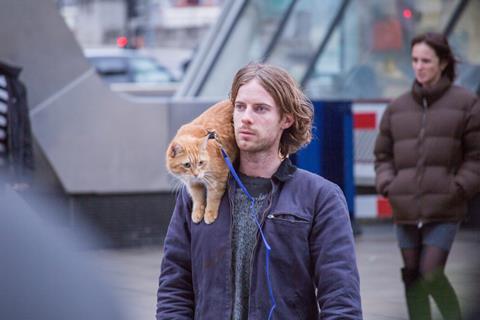 This Roger Spottiswoode-directed feature relates the true-life story of an injured stray tabby cat named Bob who adopted homeless drug-addict James Bowen (Luke Treadaway) and turned his life around in the most spectacular fashion – together, they've sold five million books. So far, so upbeat: yet while Bob does slink around some predictable narrative beats, this is still a slyly subversive film with a social point to make as it highlights James's isolation in a cold, hard-faced London which responds better to animals than its hopeless humans.
This film may rub hard against social consciences
A standout performance from Luke Treadaway gives A Street Cat Named Bob some unexpectedly sharp teeth. The success of internet cat-fancying sensations (Bob, Grumpy Cat, et al) may lead prospective viewers to sniff out a moggy version of Marley & Me (they share the same UK publisher), but this is a franker depiction of the tough story behind the Youtube sensation including the horrors of methadone withdrawal. As a result, theatrical success may be a more elusive rodent for Bob to hunt down, and A Street Cat Named Bob could settle down best as a home animal.
Treadaway excels as the damaged methadone addict opposite a suitably appealing debut from Bob himself in support (and various Bob stand-ins). Those expecting a feel-good onslaught will discover something more nuanced, although Street Cat hits all the predictable emotional beats including a hesitant romance and an emotional family reconciliation in the midst of James's struggle to reconnect with his life.
The main appeal of A Street Cat Named Bob is its reverse narrative – this man may rescue a cat but, in reality, it's the cat who saves the man's life. The books themselves are slight – James finds Bob, Bob spots a mouse, Bob gets microchipped – and Spotiswoode, working from a screenplay by Tim John and Maria Nation, has more than the problems of working with animals to deal with here. He sets the scene carefully in this 102-minute film, taking time before Bob even wanders into the frame.
A fragile James (Treadaway) is first seen busking in a wet Covent Garden before he overdoses – as he's on a methadone programme, taking any heroin is potentially fatal for this street-sleeper. His harried case worker, played by Downton Abbey's Joanne Froggatt, sees his potential to re-enter society, and pushes for James to be moved to sheltered accommodation on a grim North London estate where he encounters the composite character Betty (Ruta Gedmintas) a kooky vegan potential love interest and, more successfully, Bob the cat.
Treadaway brings a vulnerability to his depiction of Surrey-born James, who was abandoned by his father (Anthony Head) and diagnosed with bi-polar disorder and ADHD as a child in Australia. He makes it easy to see how a man can become cut off from the world, and how life can rapidly stack up against him as part of an army of anonymous of street-sleepers in London's cold climate – crueller now than when these events took place in 2007.
In fact, there are times when A Street Cat Named Bob looks more like a scene from Mike Leigh's Naked than the cute Youtube busker-and-cat video where this whole sensation started out.
When Bob insists on following James "to work" on a leash, sitting patiently on his head or in his guitar case as he busks, it slowly brings James back in contact with humanity (as exemplified by Ruth Sheen as a fan of Bob's who proffers tins of tuna and knitted scarves).
This isn't always easy: moving to work as a seller of The Big Issue, James lands in some tough turf wars. Throughout, he struggles to get completely clean. Sequences with the bubbly Betty don't merge very well with this gritty narrative, although Gedmintas is a warm presence in a dramatic device. Dad Anthony Head's character is also thinly stretched around a few clichés. The ending is gratifyingly upbeat, as everyone who enters the cinema will already know.
Spottiswoode's technical team nicely captures a down-at-heel, wet, grey and inhospitable London, softening up as our protagonist makes the journey back to life with the help of his solemn sidekick Bob. Whatever about nine lives, A Street Cat Named Bob it may find its best audience on home viewing after a splashy royal UK premiere through Sony – attended by the Duchess of Cambridge, no less - and a US release on November 18. It's clear here that James Bowen hasn't forgotten his fellow sufferers, or those who helped him, and the film may rub hard against social consciences as austerity Britain knocks up against another cold Christmas.
Production companies: Prescience, The Exchange, Shooting Script Films
International sales: The Exchange, info@theexchange.ws
Producer: Adam Rolston
Executive producers: Damian Jones, Tim Smith, Paul Brett, Anders Erden, James Swarbrick, Brian O'Shea, Spencer Pollard, Caroline Stone
Screenplay: Tim John and Maria Nation, based on the book by James Bowen
Cinematographer: Peter Wunstorf
Editor: Paul Tothill
Production designer: Antonia Lowe
Music: David Hirschfelder
Main cast: Luke Treadaway, Ruta Gedmintas, Joanne Froggatt, Anthony Head