Dir/scr. Morgan Simon. France, 2016, 80 mins.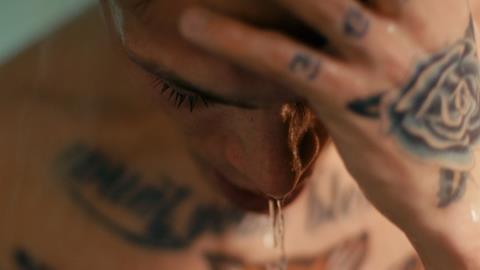 As the alienated 24 year-old protagonist of Morgan Simon's feisty feature debut admits: "Tattoos used to make you different, now they just make you ordinary". A Taste Of Ink (Compte tes blessures) may pepper its ordinary domestic setting with body art and a screeching post-punk soundtrack, but what really stands out is a precise script and fine performances which turn a family drama into a punchy narrative.
Vincent isn't as tough as his wild stage presence or fierce tattoos might initially suggest
Led by provocative artwork featuring Kévin Azaïs (Love At First Fight/Les Combattants), A Taste Of Ink will look for younger audiences when it goes out in France through Rezo, and an international push started at San Sebastian (where it gained a special mention in the First Film Competition), followed by the Zurich film festival. This isn't, however, a film about tattooing, or even punk; those elements are window-dressing for a drama about an alienated, motherless young man who becomes attracted to his father's new girlfriend (Monia Chokri).
It's no surprise to see that Simon's script went through the Cinefondation Atelier and the Jerusalem Lab; although slight, this film is taut and adopts a sensible approach to pacing and running time (a sprightly 79 mins). For all that it takes itself seriously, A Taste of Ink is also happy to indulge in small moments of absurdity - such as the search for condoms in a supermarket warehouse - which help lighten the intensity and angst.
The film starts with Vincent (Azaïs) ordering two more tattoos from his ink artist and bandmate (they play in a post-punk outfit called Seven Day Diary, whose refrain "Fuck You! I'm Done With You!" is perversely catchy). Vincent has engraved a picture of his mother on one side of his neck, and wants his dad Hervé (Nathan Willcocks) on the other. Even his pal thinks that's a bad idea, and fishmonger Hervé responds poorly ("I'm going to have to see that every day?").
Vincent's mother died of cancer a few months ago, and dad already wants to shack up with supermarket checkout clerk Julia (Chokri). She's not as pliant as she originally seems, however. With a dead-end job and a drab home life, the thirtysomething Julia is torn between the stability offered by boring Hervé and the excitement provided by Vincent. (Why she would be attracted to Hervé at all, however, isn't quite clear.)
Indeed, Vincent isn't as tough as his wild stage presence or fierce tattoos might initially suggest. At its core, A Taste of Ink is about a young man coping with the death of his mother and the increasingly urgent need to strike out by himself. Vincent's approach to body art is as poorly thought-through as his designs on his father's girlfriend ("Count Your Blessings" stretches across his torso). And his naked longing for his father's approval is clearly never going to be satisfied, so what will it take to break this domestic cycle? Morgan Simon certainly gives the viewer a definitive answer in a film which is more entertainment than provocation.
Technical credits are very solid for this small-scheme Paris-set feature, no more so than in footage shot on the stage and dance floor, where anger and futile rage are brought vividly to life. The angry soundtrack brooks no snoozing in the back row.
Production company: Kazak Productions
International sales: Versatile Films
Producers: Amaury Ovise, Jean-Christophe Raymond
Screenplay: Morgan Simon
Cinematography: Julien Poupard
Editor: Marie Loustalot
Production design: Marion Burger
Msic: Julien Krug, Selim Aymard
Main cast: Kévin Azaïs, Monia Chokri, Nathan Willcocks, Julien Krug, Selim Aymard, Cedric Laban