Sophie Rois stars in Nicolette Krebitz's whimsical romantic drama championing female desire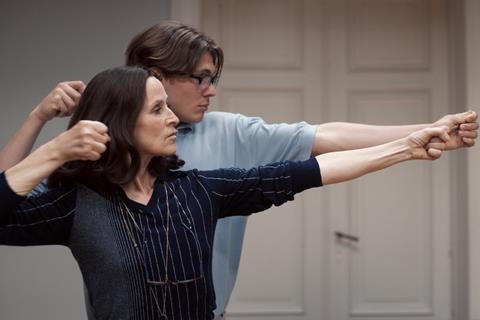 Dir. Nicolette Krebitz. Germany/ France. 2022. 104 mins.
A May-September romance with a polemical feminist thrust, AEIOU – A Quick Alphabet of Love depicts a simmering case of amour fou between a middle-aged actress and a troubled but seductive young man. This feature by German writer-director Nicolette Krebitz determinedly flies the flag for female desire and takes arms against sexism and ageism. There are certainly provocative and satisfying stories to be told about this kind of relationship – and one can no doubt think of a few made in France over the years. Unfortunately, AEIOU comes across as a whimsical, over-literary, ultimately implausible confection – not in its narrative itself, but in its jarring use of theatricality and a highly rhetorical filmic language.
AEIOU comes across as a whimsical, over-literary, ultimately implausible confection
Where Krebitz's film works best is as a strong showcase for Austrian performer Sophie Rois, a long-standing regular in German language film and TV, whose big screen work includes Tom Tykwer's Three and Terrence Malick's recent A Hidden Life, and who here gets a bold showcase as a super-smart sensualist reborn. Otherwise, the film's lunge into chic lifestyle romance has an unavoidable are-you-kidding factor that won't serve it well after its Berlinale competition premiere.
Narrated by Rois in the third person, the film begins with musings on the alphabet, specifically the vowels, as seen held up on placards by a row of men in an identity parade in a French police station. Heroine Anna (Rois) declines to identify any of the men, puzzling the cop in charge (Nicolas Bridet) – which then sends the story back to its start, everything beginning, we're told, with the letter A for Adrian.
One night in Berlin, outside the city's much-loved Paris Bar, a young man grabs Anna's handbag. In what seems a deliberately misleading intro, a young woman – who seems likely to feature as a key character, but promptly vanishes - chases the mugger and retrieves the bag. Nevertheless, Anna is traumatised and booby traps her flat against intruders. Meanwhile, while visiting her doctor (a cameo by film-maker Nicolas Wackerbarth), Anna is prevailed on to give speech therapy sessions to a young man with problems, who is about to appear in a play at his high school. Believe it or not, the boy is none other than Adrian (Milan Herms), the mugger.
Anna still goes along with the lessons, which take place in her flat – in fact, the room which once belonged to her long-gone ex, a blocked writer. And, as Anna drills Adrian on the vowel sounds – mainly the letter A - with some laying on of hands, they gradually warm to each other, and get tentatively flirty. The moment when things turn all-out romantic is signalled by a slow-motion scene in which Adrian gives Anna a pair of budgerigars, which flit around the room to Nina Simone's version of 'Here Comes the Sun'. Before long, the pair are a tender item, which seems to do them both a world of good.
Bespectacled Adrian, initially presented as something of a nervous, twitchy nerd, finds his inner romantic lead (he's later seen as a positive pin-up in a white suit), while Anna – dressed in an increasingly relaxed manner as her body language conveys sensuality and renewed youth – becomes a new woman, freed by excitement and up for anything. That 'anything' involves a whirlwind trip to the Côte d'Azur, where the pair dive into joyous transgression, as Adrian's petty thefts get gradually less petty – and where the duo are seen in one all-out goofy sequence wearing newspaper masks and harvesting wealthy tourists' wallets.
What starts as a relatively realistic, albeit stylised drama soon devolves into glossy fantasy of a sort that recalls Claude Lelouch with an added dash of Betty Blue. But the film has a flamboyantly demonstrative edge right from the start – both in the awkward literary tone of Anna's cogitations on the meaning of vowels, and in the highly histrionic register adopted at different points by both the main actors. Rois pulls that off with panache, Herms less so, notably in a scene where he wildly waves a door to and fro in Anna's flat, by way of helping her find closure.
Former actor Krebitz especially won plaudits for her third feature Wild, widely praised for bringing a genuinely feral touch to the exploration of female sexuality. AEIOU is nothing if not thematically and formally ambitious, although the alphabet premise that frames it is never satisfyingly sustained. The film undeniably has swagger, and humour – the latter partly derived from the neatly underplayed eyebrow-raising of Udo Kier, as Anna's sceptically supportive friend and downstairs neighbour. And Rois undeniably seizes a juicy role with both hands, even if she can't quite persuade us to swallow its riper moments (like Anna's night of solo rapture in a police cell). But overall, the film feels less like a cogent emotional narrative, more like a succession of flamboyant dramatic gestures – and, at the very end, a wishful-thinking fairy tale.
Production companies: Komplizen Film, Kazak Productions, Kineo Filmproduktion
International sales: The Match Factory, info@matchfactory.de
Producers: Janine Jackowski, Jonas Dornbach, Maren Ade
Screenplay: Nicolette Krebitz
Cinematography: Reinhold Vorschneider
Editing: Bettina Böhler
Production design: Sylvester Koziolek
Main cast: Sophie Rois, Udo Kier, Milan Herms, Nicolas Bridet