Dir: Joachim Lafosse. Fr-Belg. 2016. 98mins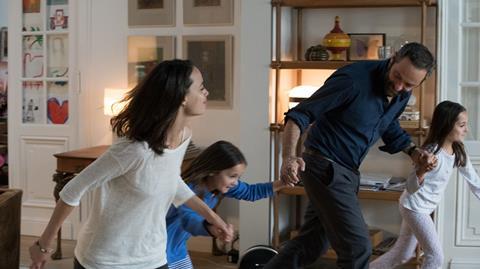 It's one of the more bourgeois topics to explore in a domestic drama, but the division of a shared life and its accrued property after a marriage breakup is a theme which Joachim Lafosse clearly finds rich with cinematic potential. Having already explored similar territory in 2006, with Private Property, he returns to the topic with After Love (L'Economie du couple), an unflinching portrait of the final weeks of a marriage.
While Lafosse scrupulously avoids taking sides in the break up, it is hard to muster much sympathy for either party
Marie (Berenice Bejo) has reached the end of her tether with her husband Boris (Cédric Kahn). Fifteen years worth of simmering grudges about sock laundry have boiled over, the battle lines have been drawn in the house that they are still forced to share, and the time they spend with their twin daughters is neatly apportioned between them. A relationship which is largely built on recriminations and point scoring is a dispiriting thing to witness, and this is certainly a tough watch at times. But it is a compelling drama, which, with its strong performances and adult themes, should receive plenty of interest on the festival circuit. The film's theatrical prospects are likely to be limited to arthouse bookings, where it may struggle to match the similarly themed but more complex offerings like Asghar Farhadi's A Separation or Derek Cianfrance's Blue Valentine.
Lafosse flips the traditional gender roles in this relationship. Marie is the provider. Her savings, together with a gift from her wealthy parents, bought the home in which the family uneasily cohabit. She pays the mortgage. But Boris, who describes himself as 'an architect', a moniker contested by Marie's dismissive eye-roll, renovated the whole apartment. And he refuses to move out unless the value of his work is factored into his split of the assets. The impeccably decorated walls are closing in on couple.
While Lafosse scrupulously avoids taking sides in the break up, it is hard to muster much sympathy for either party. Captured with a handheld camera that prowls around their contested living space like a caged animal, the atmosphere is charged with petty sniping. Controlling Marie flashes glances at her spouse that cut like stab wounds; Boris is oafish, inconsiderate and feckless with money. And both stoop to using their children as weapons in the struggle to undermine each other. Perhaps because we never got to see the couple when they were in love, we never feel compelled to mourn their dying relationship. While it is undeniably sad, it doesn't have the gut-wrenching tragic impetus of Blue Valentine.
The score is sparse, although a lugubrious piano motif hovers around the movie like an overeager divorce attorney sharking for business. Where the film works best are the moments of discomfort, where the tensions crackle and the fault lines in the bedrock of the marriage become clear. The most mortifyingly awkward dinner party since Thomas Vinterberg's Festen is a particularly effective. It's a fine piece of ensemble acting: Marie and Boris's friends look on as the couple get savagely territorial over the cheese plate.
Production companies: Les Films du Worso, Versus Production
International sales: Le Pacte, sales@le-pacte.com
Producers: Jacques-Henri Bronckart, Olivier Bronckart
Screenplay: Mazarine Pingeot, Fanny Burdino, Joachim Lafosse, Thomas van Zuylen
Cinematography: Jean-François Hensgens
Editor: Yann Dedet
Production design: Olivier Radot
Main cast: Bérénice Bejo, Cédric Kahn, Jade Soentjens, Margaux Soentjens, Marthe Keller