Letitia Wright and Josh O'Connor excel in Frank Berry's moving story about an asylum seeker in Ireland's direct provision system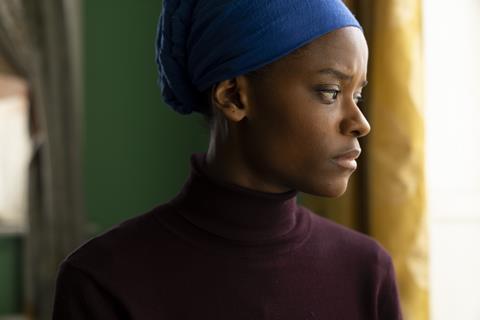 Dir/scr: Frank Berry. Ireland. 2022. 94 minutes.
The process of seeking asylum in Ireland is a long grind of cumulative indignities and knitted red tape in Frank Berry's Aisha. It's a dehumanising process, but one which has so far failed to crush the spirit of the titular Aisha (Letitia Wright), a young Nigerian woman who has fled the violent vendetta which has already claimed the lives of her father and her brother. But just as she starts to hope for a future, permitting herself a tentative friendship with Conor (Josh O'Connor), Aisha's asylum claim is called into question. It's not an unfamiliar story, but Frank Berry's delicate drama is immensely moving. O'Connor is endearingly gauche and wholly persuasive as the smitten ex-con turned security guard; Wright is phenomenal in a career-best turn. Together, they work beautifully, in a relationship which shuffles awkwardly on the sidelines of romance.
Cut from the same cloth as the work of Ken Loach, this is not the kind of filmmaking that draws attention to itself
This is the third feature for Dublin-born director Frank Berry, who cut his teeth making community films and teaching. His first feature, I Used To Live Here, won best Irish First Feature at the Galway Film Fleadh in 2014; his second, Michael Inside, won multiple accolades, including the top prize at the same festival. Socially conscious in his choice of material, Berry has not avoided tackling difficult themes – Michael Inside, for example, was forcefully critical of Ireland's penal system. Aisha focuses on the controversial direct-provision system for housing asylum seekers in Ireland, although there is nothing inflammatory about this meticulously researched story of human connection. It should find a warm reception at further festivals and could connect with a similar theatrical audience to that of Limbo or perhaps After Love.
There's something about Aisha's gentle demeanour and dignity which encourages others to confide in her. "You're a good listener," says Conor. It's more of a question than a statement, but shortly afterwards he himself is prompted to reveal his own past hurt. There's a lovely sequence in which Aisha, a trainee at a hairdresser and beauty parlour, carefully tends to the older African women at the hostel accommodation. Each in turn unburdens herself, sharing fears and anguish. Aisha listens, then sits alone in her room, crumpled at the waist as if the breath has been punched out of her by the accumulated pain. Aisha has her own wounds, over something that is almost impossible to voice but which she must reveal to have any hope of winning over the asylum committee. Her spirit is ground down by the petty actions of the manager of her accommodation who, in revenge for her temerity in using the microwave to heat her Halal food, transfers her away from her friends, her job and her lawyer, to a bleak facility deep in the countryside.
Cut from the same cloth as the work of Ken Loach, this is not the kind of filmmaking that draws attention to itself. The score is subdued to the point of being almost subliminal, the use of sound captures the loneliness of being constantly surrounded by people. But Berry's empathetic eye is keen when it comes to subtle details: the way Aisha loses the will to tie her headscarf, the way her previously smart clothes seem to hang, defeated, as the attrition of indignities starts to take its toll. But there are happier details too, not least the shy smiles which flutter between Aisha and Conor when they come close to acknowledging just how much they mean to each other.
Production company: Subotica
International sales: Cornerstone office@cornerstonefilm.com
Producers: Tristan Orpen Lynch, Donna Eperon, Aoife O'Sullivan, Sam Bisbee
Cinematography: Tom Comerford
Editing: Colin Campbell
Music: Daragh O'Toole
Main cast: Letitia Wright, Josh O'Connor