Abel Ferrera stages a series of concert performances celebrating his filmmaking career; the result is surprisingly endearing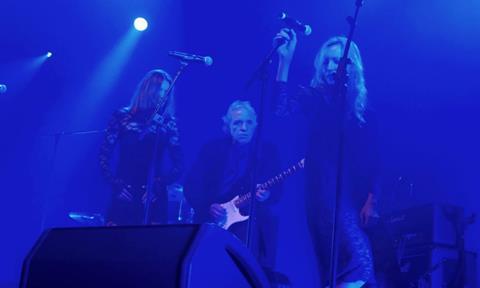 Dir. Abel Ferrara. France. 2017. 79mins
Abel Ferrara's concert film is very much like his features — gritty, raw, idiosyncratic — but Alive In France might be the first time viewers could reasonably call one of his works endearing, even sentimental. Documenting a series of performances the 65 year-old director gave in France in October 2016 as part of a career retrospective, the movie is both a ragged lark and an accidental portrait of the artist as the consummate seat-of-his-pants hustler, doing whatever it takes to put his vision out into the world.
From the outset, Alive In France has an appealingly jagged quality.
Premiering in Directors' Fortnight, Alive In France will lure the director's cult following, although those unfamiliar with Ferrara's films may simply appreciate the Doors-ian swagger of the music and the director's lively presence in front of the camera.
Shot on the fly, the film follows Ferrara and frequent collaborators Joe Delia and Paul Hipp in a handful of concert dates in Toulouse and Paris, playing songs from Ferrara's movies. Along the way, the film catches up with the director as he does Q&As for the French film retrospective and works to attract attention for his shows.
From the outset, Alive In France has an appealingly jagged quality. Ferrara's band quickly figures out they need to find drummers for each date, and rapper Schoolly D has to drop out after he discovers he's on a no-fly list. These obstacles seem to play perfectly to the strengths of this indomitable filmmaker, however, and we watch as Ferrara embraces the chaos, turning his documentary into a treatise on the logistical demands required to make any piece of art.
This Ferrara is a proud iconoclast. Whether directing a French street photographer on how best to shoot him or barking at the concert venues' lighting team about his exact stage requirements, he exudes the air of a man who knows how to get things his way. With his crooked teeth, pit-bull intensity and imposing countenance, Ferrara might be the platonic ideal of the driven director yet there's also something charming about his boundless enthusiasm and willingness to pour himself into everything he does.
That translates into performances that could hardly be described as bravura. Sporting a ragged voice and hulking manner, Ferrara isn't as commanding behind the mic as he is in the director's chair, but the vulnerability and passion in his singing humanises the famously combative auteur. That lack of vanity is most welcome. Indeed, Ferrara has no problem highlighting the troubles he has recruiting audiences for the concerts — or, in one great moment, focusing on a drunken fan who keeps booing Hipp as he plays the plaintive "Midnight For You" from China Girl.
Running a svelte 79 minutes, Alive In France is no definitive personal statement, but it seems clear that Ferrara is communicating deeply-held beliefs through the movie's offhand depictions of messy artistic creation and the savouring of hard-earned pleasures. The filmmaker's movies often detail the lives of desperate, doomed personalities; by comparison, Ferrara looks positively radiant.
Production company: Bathysphere Productions
International sales: The Match Factory, info@matchfactory.de
Producer: Nicolas Anthomé
Cinematography: Emmanuel Gras
Editors: Fabio Nunziata Leonardo, Daniel Bianchi
Featuring: Abel Ferrara, Paul Hipp, Joe Delia, Cristina Chiriac, Dounia Sichov, PJ Delia, Anna Ferrara