Dir/scr. Jacek Borcuch, Poland, 2009, 95 minutes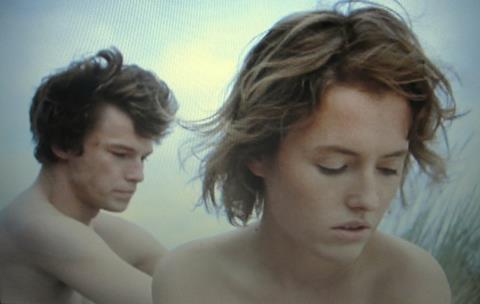 All That I Love is a Romeo And Juliet story set in 1981, as a smalltown punk band finds itself among the enemies of the state when the Polish government cracks down on the independent workers movement, Solidarity.
This coming of age tale by Jacek Borcuch, described as "Poland's first independent filmmaker," puts a new wrinkle in the template of "star-cross'd lovers", juxtaposing young love and musical rebellion with a vivid period political setting, even though the commercial potential outside Poland for this overly familiar tale appears minimal in any format.
In the punk group named All That I Love (ATIL), singer Janek (Mateusz Kościukiewicz , looking like a young Polish Heath Ledger) is a naval officer's son whose relationship with young Basia (Olga Frycz) frays after police imprison her intellectual father. Already suspect, the band gives a concert which lands Janek's father in trouble with local officials.
Borcuch's script takes familiar steps through young love, as Janek and Basia are drawn to each other, and then torn apart when the military seizes power.
Yet the film's evocation of its time is meticulously detailed, as rebellious young rockers mock authority in the dingy institutional interiors of communist Poland.
DP Michal Englert elevates All That I Love beyond its script, capturing that tawdriness, and the radiance of the seaside setting. Veteran Andrzel Chyra stands out in the cast as a military officer who risks his career by choosing loyalty to his family over obedience to the party.
To sign up for Screen's weekly Reviews Newsletter with all the week's new releases, international openings and full festival reviews delivered free to your mailbox every Friday, please click HERE
Production companies
PRASA I FILM
TVP SA – Film Agency
Canal +
Polish Film Institute
International Sales
Prasa I Film
+ 48 22 851 10 37
Producers
Jan Dworak
Kamila Polit
Renata Czarnkowska- Listoś
Sławomir Jóźwik
Cinematography
Michał Englert
Music
Daniel Bloom
Production design
Elwira Pluta
Main Cast
Mateusz Kościukiewicz
Olga Frycz
Jakub Gierszał
Andrzej Chyra
Anna Radwan
Katarzyna Herman
Mateusz Banasiuk
Igor Obłoza
Marek Kalita