Dir/scr. Kheiron. France. 2015. 102 mins.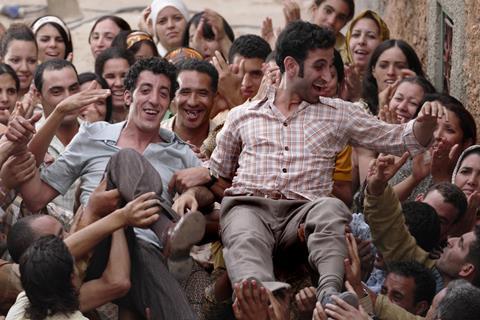 French stand-up comedian, actor and rapper Kheiron gives his parents a big cinematic hug in his debut feature, which premiered at the Tokyo International Film Festival prior to its November 4 local release and a slot in Tallinn's Black Nights festival.
The script never loses sight of the fact that this is essentially a story about families – the ones we're born into and the ones we create or inherit.
Born in Teheran to a left-wing political activist father and mother who fled from Iran via Turkey to France when they saw the tyranny of the Shah's regime replaced by another brand of dictatorship, Kheiron focuses on their story, not his own – but brings a wealth of affectionate nuance to the exercise by playing his dad.
The result could have been cloyingly sentimental, but there's a sensitivity and grace in All Three Of Us that fends off that danger. In the current phase of détente and reaching out to Teheran, there's also a certain timeliness to a historical portrait that gives an intimate, personal view of the Iranian upheavals of the 1970s and 1980s in a way not seen since Persepolis. Occupying the last third of the film, the story of his father's and mother's move to France and engagement in social activism in the disadvantaged northern outskirts of Paris allows the writer-director to draw parallels between different brands of oppression and political engagement – while inevitably losing some of the urgency of the Iranian opening.
The director's high profile as a touring comedian and TV presence in the French-speaking world, as well as the film's flattering portrait of a multi-racial France choosing harmony over conflict, should help local audiences embrace All Three Of Us. Elsewhere, it's more of a niche proposition, but Kheiron's bravura balancing act between comedy and drama, his co-star Leila Bekhti's heartwarming turn as the mother and the feelgood pheromones the film exudes could add a few territories to already-announced deals with Brazil and Germany.
A jaunty intro, heavy on voiceover narration, presents Hibat as a young boy growing up as one of 12 siblings in rural southern Iran. But soon enough we're into darker territory as an adult Hibat – a law student and communist agitator now played by Kheiron – is arrested and thrown into one of the Shah's prisons with a ten-year sentence for sedition. The comic touches that leaven the drama of captivity work because they mix the entirely believable gallows humour of the long-term captive with an underlying anger. Even the portrayal of the Shah as an out-of-touch but perfectly-coiffed buffoon, as if Omar Sharif were channelling Peter Sellers, hits the mark: like many satirists, Kheiron by no means lets his targets off the hook in sending them up.
The script never loses sight of the fact that this is essentially a story about families – the ones we're born into and the ones we create or inherit. On release from prison – where he was thrown into solitary confinement for refusing to eat a slice of a cake sent to the detainees by the Shah – Hibat meets and falls for feisty young nurse Fereshteh (Bekhti), but first has to get past the hurdle of her traditionalist father-in-law. At least he seems a traditionalist: the portrait of this secular conservative, increasingly disgusted by the fundamentalist turn in Iranian society, is one of several fine character parts, and Gerard Darmon is magnificent in the role.
Making the dangerous snow-bound crossing into Turkey with the help of Hibat's Kurdish friends and political allies, he and Fereshteh are soon granted political asylum in France. Here, a new phase of the adventure begins: assigned to Stains, a depressed banlieue in the far northern suburbs, they are gradually weaned away from the Iranian pro-democracy activism of their early years in France and begin to work with the local community in nearby Pierrefitte, Maryam as a counsellor for a women's group and Hibat – who has by now qualified as a lawyer – running a community centre and gradually becoming an expert on mediation, helping to resolve conflicts between different ethnic groups, or between young black street kids and the police.
Kheiron tones down his stand-up schtick in his portrayal of his father – so much so that he gives some of the best lines to other characters. With a face so primed for comedy, it's a necessary move, and if his emotional range is sometimes limited, it's a limitation compensated for by Bekhti's impassioned account of Fereshteh.
Shot with competence and warmth, the film's most original craft layer is the score. Sometimes it underlines the mood with traditional Iranian ballads or Ludovico Einaudi piano trills, but just as often it plays interestingly against it – as when a decorous Baroque piece by Handel plays over Hibat's ordeal in solitary confinement, as he's being savagely beaten by prison guards.
Production companies: AdamaPictures, Gaumont, M6
International sales: Gaumont, cgaget@gaumont.fr
Producer: Simon Istolainen
Cinematography: Jean-Francois Hensgens
Editor: Anny Danche
Production designer: Stanislas Reydellet
Main cast: Kheiron, Leila Bekhti, Gerard Darmon, Zabou Breitman, Michel Vuillermoz, Alexandre Astier