Dir: Andrea Arnold. UK-US. 2016. 162 mins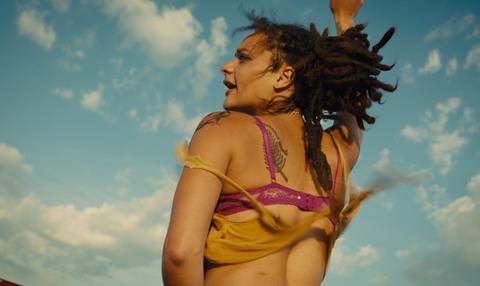 America's wide open spaces have rarely felt as claustrophobic as in American Honey, a US road trip largely undertaken in a box-like white van, and shot in tight Academy ratio format. The story of a young woman looking for escape, only to find herself on the proverbial Road to Nowhere, has an appropriately enclosed, tense feel in Andrea Arnold's ambitious, assertively experimental travelogue, shot over 56 days in several American states.
Visually the film is terrific, Robbie Ryan's restlessly shifting, often sun-soaked photography vividly snapping up snatched moments of industrial drabness and bucolic bliss
As a story about a young woman trying to find a better life, the film is of a piece with Arnold's UK working-class tale, the appropriately named Fish Tank (2009), but it represents a significant departure from her earlier work in being so open-ended, seemingly improvisatory, and in overall ambition. But while American Honey exudes ample energy, this episodic piece doesn't muster much narrative drive over its daunting running time of two and three quarter hours. There's probably a stronger, tighter film in here, but fair game at least to Arnold in her commitment to following the winding back roads of filmic experiment rather than the well-mapped highway of storytelling.
The film begins in a small US town where we see dreadlocked 19-year-old Star (Lane) foraging for jettisoned foodstuffs in a supermarket skip. When a white van carrying a rowdy group of youth passes through, Star finds herself flirting with their charismatic older leader Jake (LaBeouf), who offers her a job. Before long, she's joined his crew, who travel round the Midwest, selling magazine subscriptions. There's clearly a great sense of camaraderie to be had with this bunch of motley youth, crammed together in the van to a permanent soundtrack of hip-hop and R&B. But Star soon comes to realize that the terms of engagement are tough.
The show is really run by the hard-bitten Krystal (Riley Keough), who's suspicious of Star as a youthful sexual rival, and who has Jake completely in her thrall. Then there's the fact that the selling is done by lying outrageously to gullible customers, whom Jake meanwhile robs. And Krystal makes it clear that rich and dirt poor alike are fair game for ruthless milking. The use of rootless innocents to do the work suggests that the hippie dream, of which this generation bears the faintest traces, is long dead: freedom and rebellion have become just masks for the profit motive at its most merciless.
American Honey has a certain quasi-documentary dimension, insofar as the action – shot in sequence in as informal a manner as possible, road trip style - appears to represent the process of the film being improvised from location to location. The story is based on a 2007 New York Times article by Ian Urbina, about just such sales crews, but there's little sense that Arnold wants to give us a journalistic exposé. We never see any of the other kids do their selling work – indeed, they seem so raucously anarchic that it's hard to imagine what their methods might be. And Arnold isn't really interested in the other characters. Of the 15 young people – largely unknown, apart from Arrielle Holmes, who appeared in the Safdie Brothers' Heaven Knows What – few are really differentiated as individuals, apart from a Darth Vader-fixated girl named Rebel.
Instead, the film very much focuses on Star, played by bright discovery Sasha Lane as wide-eyed but hardly innocent, open to all the possibilities of life on the road – existential and sexual – but sufficiently sharp and initiative filled to stand out from the crowd. LaBeouf's Jake never quite comes into focus as an ambivalent bad boy, but Keough (from TV's The Girlfriend Experiment) gives Krystal a steely, cynical edge, and it's unfortunate that the narrative isn't more precisely developed to give this figure her deserved time in the spotlight.
Visually, however, the film is terrific, Robbie Ryan's restlessly shifting, often sun-soaked photography vividly snapping up snatched moments of industrial drabness and bucolic bliss alike, shifting from imposing landscapes to extreme close-ups of nature and somewhat channelling the Southern low-life romanticism of photographer William Eggleston (as well as the youth culture imagery, filmed and still, of Larry Clark).
The film's disabused take on American culture sometimes comes into sharp focus – notably near the end, in a contrast between Star's sad features and the exuberant romance of Lady Antebellum's titular country song. This would have made a good point to turn off the track, but a campfire coda, leaving Star's fate undecided, suggests that the road could go on forever – or just that Arnold hasn't quite found her ending.
Production companies: Labor, Pulse Films, Mandown, Maven Pictures, Film4, BFI
International sales: Protagonist Pictures, vanessa@protagonistpictures.com
Producers: Lars Knudsen, Jay Van Hoy, Pouya Shabazian, Alice Weinberg, Thomas Benski, Lucas Ochoa
Screenplay: Andrea Arnold
Cinematography: Robbie Ryan
Editor: Joe Bini
Production design: Kelly McGehee
Main cast: Sasha Lane, Riley Keough, Shia LaBeouf