Rebecca Zlotowski explores the power of sexuality in this sultry South of France drama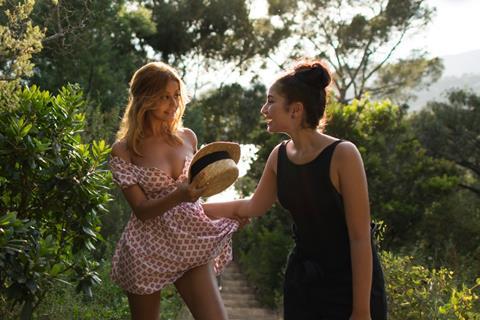 Dir: Rebecca Zlotowski. France. 2019. 91mins
The fourth film from Rebecca Zlotowski is a breezy amorality tale, set against a sun-kissed summer in Cannes. Naima (Mina Farid) has just turned sixteen and has finished school. Her plans for the holiday are as malleable as her half-formed personality. When her older cousin Sofia (Zahia Dehar) visits unexpectedly, Naima gets caught in the slipstream of Sofia's laser-focused pursuit of conspicuous consumption and good times. While not quite as skimpy as one of Sofia's outfits, the film can feel slight at times. But it's eminently watchable – think Rohmer for the instagram age – and features an eye-catching performance from newcomer Mina Farid.
Zlotowski deftly juggles the contrast between the artifice of wealth and the grounding of the real world
As Grand Central's pairing of Tahar Rahim and Léa Seydoux demonstrated, Zlotowski has a knack for the kind of casting which can generate off the scale sexual electricity. In this case, it's Dehar who is the film's main power source, although her self-absorbed character's chemistry is mainly with herself. It's canny casting – actress, model and lingerie designer Dehar brings an existing celebrity and notoriety; she burst into the public eye as the focus of an underaged prostitution scandal which implicated several top footballers. Her presence in the cast of a film which confronts head on the 'easy woman' cliché certainly won't hurt its commercial prospects, both as a festival title and theatrically.
With her whole life in front of her and decisions to be made on its future, Naima prefers to drift for a while, tugged in the direction that her closest friends are travelling. Closest of all is aspiring actor Dodo ("Riley" Lakdhar Dridi, demonstrating the voguing skills previously showcased in Gaspar Noe's Climax). But when Sofia teeters into her life, fresh from Paris, a cartoon nymphette dripping with labels and lazy sensuality, Naima is transfixed. She's looking for a way into adulthood, and Sofia's rejection of emotion in favour of sensation and adventure seems like a tempting option. Particularly as Sofia's brand of freedom seems to be unusually lucrative – she gifts Naima a baby-pink designer bag to match her own.
With Sofia's weaponised sexuality as an entry ticket, Naima finds herself on the other side of the velvet rope, invited on board the luxury yacht of Andres (Nuno Lopes), an ultra-wealthy collector of beautiful objects. For Naima, whose mother works in a Cote D'Azur hotel and who has a summer job lined up in a high end restaurant kitchen, it's not an entirely comfortable experience. She, like the camera, notices the raised eyebrows of the hotel staff and yacht crew who service the needs of Andres and his friends. She finds a kinship with Philippe (Benoit Magimel), who occupies a slightly indistinct role somewhere between Andres' friend and his lackey.
Sofia, meanwhile, may be a self-created sexual ideal, but she's no dummy. A superb scene in which a wealthy female friend of Philippe's launches into a poisonously polite enquiry about her plastic surgery plays out like a particularly bitchy game of chess. Sofia has the winning move.
This is a handsome film; not surprising, given that it is set in the south of France and is full of gilded beauty. But Zlotowski deftly juggles the contrast between the artifice of wealth and the grounding of the real world. And Naima's arc is a satisfying one – we leave her with her own agency and direction in life. And a Chanel bag as a souvenir.
Production companies: Les Films Velvet
International sales: Wild Bunch
Producer: Frédéric Jouve
Screenplay: Rebecca Zlotowski, Teddy Lussi-Modeste
Editing: Géraldine Mangenot
Cinematography: George Lechaptois
Production Design: Rozenn Le Gloahec
Cast: Mina Farid, Zahia Dehar, Benoît Magimel, Nuno Lopes, Clotilde Courau, Loubna Abidar, "Riley" Lakdhar Dridi, Henri-Noël Tabary