Paul Morris's one-man microbudget movie explores childhood rivalries set on a fictional housing estate in Scotland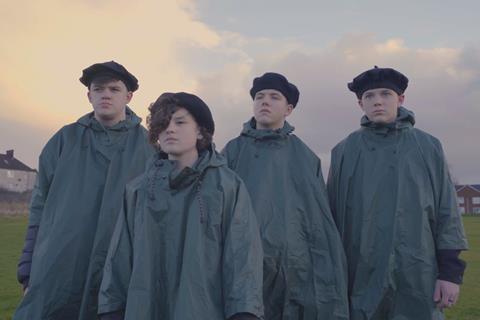 Dir/scr: Paul Morris. UK. 2021. 85 mins.
There's a raw energy to this debut film from Paul Morris that speaks to its microbudget and dovetails nicely with its theme of youth gangs. The labour-of-love nature of his comedy drama is further evidenced by the fact that Morris not only wrote and directed but also stars, took on cinematography duties, edited and co-wrote the score. If, in the end, he has bitten off rather more than he can successfully chew, you still have to admire the ambition and commitment it took to bring something like this together with just £5,000 of filming gear and props.
Morris's ideas might have found a more welcome home on the small screen, where he could have made the episodic nature of his script work for him.
Glasgow Film Festival audiences, bolstered by the cast and crew, should ensure a warm initial reception at Angry Young Men's world premiere, and its microbudget personal story might help it garner further festival interest despite its pacing and storytelling issues. The action – shot in Hamilton, Lanarkshire – unfolds on the fictional Scottish housing scheme of Mauchton. We meet the members of Jimmy's Bramble Gang as kids, all sporting black berets and plastic camouflage ponchos and preparing to take control of the entire estate, while beating up an unpleasant stepdad along the way. It's an enjoyable set-up but as, a few minutes in, we move forward to the here and now, Morris begins to struggle to maintain the momentum.
The gang are still together, led by Jimmy (Morris), and including Charlie (Alexander Hamilton), whose relationship with Siobhan (Rebecca Riddell) provides the plot's chief emotional engine, although the action is largely driven by a threat to the Bramble Gang's supremacy posed by incomers from The Campbell Group. These boys are altogether more corporate and looking to recruit on the Bramble Gang's turf, retaining their anonymity in knitted ski masks – which makes for some wry humour, not least in their recruitment poster that shows a cute cartoon of a gang member giving the thumbs up.
Morris has obviously been influenced by Bill Forsyth, although he largely seems to be aiming more for the sort of surreal territory successfully ploughed by comedy outfit The League of Gentlemen. While his film lacks the satirical bite and sharp characterisation of Jeremy Dyson, Mark Gatiss et al, that's not to say Morris's characters don't have a solid set up – one who is torn between leaving and staying, one who is permanently drunk – even though they never achieve more than sitcom levels of development. In fact, Morris's ideas might have found a more welcome home on the small screen, where he could have made the episodic nature of his script work better for him.
These lads are a sweet and likeable lot, but they feel swamped by the film's environment, and even at 85 minutes, the action is baggy and padded. For example, an early gag sees gang member Raymond (Nathan Boland) trying to escape The Campbell Group on crutches yet milks the joke that they could quickly catch him on foot rather than chasing him in a car goes on for far too long. The acting from Morris himself and his central crew is solid. In terms of the directing, though, it's evident that he is finding his feet, trying out styles and tricks in ways that could have used more guidance, even if it was only in edit. He has proved that he can lead a pack but next time, he might benefit from a bigger gang.
Production company/sales: Marlo Films, MarloFilmsLTD@gmail.com
Producer: Paul Morris
Screenplay: Paul Morris
Production design: Paul Morris
Cinematography: Paul Morris
Editing: Paul Morris
Music: Paul Morris, Patrick Boland
Main cast: Paul Morris, Alexander Hamilton, Rebecca Riddell, John Feeghan, Nathan Boland, Jordan Miller, John Kinnie, Marnie Thomson