A notable lead performance from Holliday Grainger opposite Alia Shawkat as boozed-up baristas in this adaptation of a novel by Emma Jane Unsworth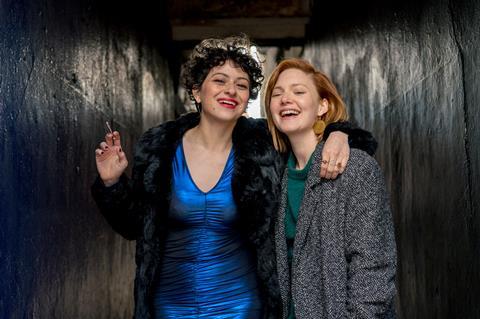 Dir. Sophie Hyde. UK/Ireland/Aus 2019. 109 mins.
Animals is a smoothly-made, beguiling tale of female friendship, which, like its protagonist Laura (Holliday Grainger), sometimes feels a little lost, in need of a home.
Although Laura and Tyler swear to be friends forever, it's clear that any relationship reliant on this much MDMA will inevitably suffer some cracks
While Animals gives Grainger – at last – a meaty part in which to show off her range, (which includes a solid Dublin accent), it's never quite comfortable in its own skin. Adapted from the 2014 novel by Emma Jane Unsworth, the story is centred around two outrageously-behaved female friends who refuse to settle as they arrive at their thirties. The film is set in Ireland, although this clearly isn't an Irish story or film, even if you didn't know in advance that the director is Australian and the source material was set in Manchester, or that Grainger is British and her co-star Alia Shawkat is an American actor.
And it's that missing anchor which holds Animals back from being the great biting adventure it could have been. Still, though, there are moments in which Animals soars from its glossy shackles, largely provided by Grainger, savouring her moment.
Adapted by Unsworth herself, the central onscreen partnership - in fact, love affair - is a delight. Laura and Tyler (Shawkat) are boozed-up baristas who refuse to settle for anything less than parties which last for 24 hours. Alcohol; drugs; sex; more, more, more. Money is surprisingly no object, although there's some hint that Tyler may have a complicated back-story. Days roll by and suddenly add up to ten years when Laura's sister announces she is pregnant – on purpose. Laura wonders what has happened to her life and her desire to write a novel. Tyler is determined to forge on with her hedonistic life regardless.
For such a pair of dedicated tipplers, though, they're so clean in Sophie Hyde's (52 Tuesdays) rather jewelled vision of how this story might play out. The pair positively glow in their primary-coloured thrift-shop wardrobes in their gently decadent and tastefully-decorated Georgian apartment in the centre of Dublin. The Irishness is signposted by aspiring-author Laura's love for Yeats, and a picture of the poet alongside Oscar Wilde on the wall. (If this was a real Irish film, though, it would be drunker, funnier, and far filthier, like last year's Dublin Oldschool.)
Although Laura and Tyler swear to be friends forever, it's clear that any relationship reliant on this much MDMA will inevitably suffer some cracks. These start to make a noise with the arrival of dreamy concert pianist Jim (Fa Fee) on the scene. He's serious about his art and suddenly decides to go teetotal, shortly after Laura has agreed to marry him. This is inconvenient for people who literally booze for breakfast. An encounter with a poet in a pub leads to a hilarious scene involving oral sex and cocaine, but, honestly, who hosts literature salons in their apartments these days?
Laura and Tyler fight; Laura argues with Jim, with her formerly wild-child sister, with herself. She knows time is running out on her 24-hour party persona, but she can't make her words go any further than ten pages. Watching someone wrestle with their notebook is a tricky prospect, but Grainger has always been a lively screen presence who makes every role sparkle, small or large. She might have been perceived to lack the necessary bite for the character of Laura, a girl who is the centre of a pubic lice anecdote, but the actor goes in for the kill and hangs in tenaciously, the light in her eyes conveying the character's intelligence and turmoil even when the spoken words falter. Shawkat's Tyler is more of a cipher; she's there to be the feminist best friend, constantly walking the line between being too supportive and too possessive.
Production values are solid throughout. This can be a lovely-looking film to watch. A final sequence which gives weight to the title is partcularly redolent.
Production companies: Vico Films, Closer Productions, Sarah Brocklehurst Productions
International sales: Cornerstone Films, office@cornerstonefilm.com
Producers: Sarah Brocklehurst, Rebecca Summerton, Cormac Fox, Sophie Hyde
Screenplay: Emma Jane Unsworth, from her own novel
Cinematography: Bryan Mason
Production design: Louise Matthews
Editing: Bryan Mason
Music: Jed Palmer, Zoe Barry
Main cast: Holliday Grainger, Alia Shawkat, Amy Molloy, Elva Trill, Olwen Fouéré, Fra Fee