The life and times of notorious rock chick Anita Pallenberg, as executive produced by her son, Marlon Richards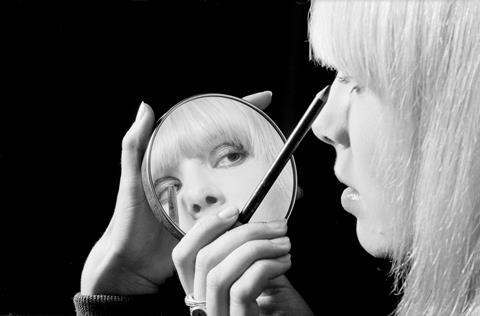 Dirs. Alexis Bloom, Svetlana Zill, US, 2023, 110mins.
The enduring fascination with the 'lives-of-wives' of the 1960s 'avant garde' - from Warhol's Factory in the US to the Beatles and The Rolling Stones in the UK - should see Anita, a doc bio of rock's most famous muse Anita Pallenberg, find a receptive home. She straddled both sides of the pond, after all, starring in Warhol movies before meeting Brian Jones in Munich, moving to London, and and then decamping to France with Keith Richards, rampant drug habit in tow. Heroin took its toll on the German/Italian rock chick but, like her friend and cohort Marianne Faithfull, she pulled herself out of the mire - and it got very mucky - to forge a later-life resurgence (Kate Moss modelled herself on Anita). This doc, which features much never-before-seen archival home-move footage on 16mm, is fashioned around Pallenberg's never-published memoirs, voiced by Scarlett Johansson.
Like Pallenberg's life, the film becomes a swirl of partying and playing the role of the professional rock chick
Supported by her son Marlon Richards — whose life with his mother was led in an extremely precarious manner, as also detailed in Richard's own published memoir 'Life' - Anita still leaves its subject clouded in some secrecy, as she might have liked. Short shrift is given to her origins, and there isn't much about her later years, so we never really understand how she came to be so defiantly different from the get-go. For all her ups and downs, she was clearly much-loved - by Marlon, his sister Angela (named Dandelion), and Richards, who speaks fondly of her here. Never look back was her guidling principle: one wonders how her children grappled with that family motto, but between her denial and the drugs, it can make for a spotty memory. Most of the film is dedicated to her life with the Stones.
Sold internationally by Cinetic, Anita's ultimate destination is unclear: as an actor, Pallenberg appeared in a lot of cool films, but she wasn't as much remembered for them as for her living-it-large private life. 1970's Performance is the most well-known: a troubled production on which she was reported to have had an affair with her co-star Mick Jagger, which Anita confirms. She was so larger than life, when a 17 year-old boy with whom she had been having an affair shot himself in the head, the rumour was they had been playing Russian Roulette together while watching The Deerhunter. Drugs were certainly involved; the child Marlon cleared up the syringes around the corpse before the police arrived. That sort of reputation lingers, although it doesn't age well. Other film festivals may follow Cannes on showing Anita, and it will sit well on a prestige streaming platform — whether it will manage any theatrical before is the question. If Stones fans turn out for the home movie footage, it could do well, despite the fact that it's no The Velvet Underground or Moonage Daydream.
Opting not to dwell on Pallenberg's wartime childhood in Rome and boarding school education in Germany - something she never did herself - directors Alexis Bloom and Svetlana Zill are content to present her as a bohemian of tentative artistic descent who left education behind at the age of 16. Volker Schlondorff, who was a close friend and cast her in A Degree Of Murder (which went to Cannes In 1967) said she never spoke of her parents or siblings, if she had any — Anita doesn't make this clear either. The film picks up when she is in New York, hanging around The Factory, impressing everyone with her take-no-prisoners attitude. Next stop: Munich and Brian Jones, and Anita is very specific about the car trip to Morocco that led Pallenberg to leave the insecure Brian for his band-mate Keith.
Like Pallenberg's life, the film becomes a swirl of partying and playing the role of the professional rock chick - even when the children eventually arrived. The drugs get harder, the police are in pursuit, and it's impossible to maintain the pace, especially after Pallenberg and Richards' third child Tara suffered a cot death at 10 weeks. Much of the rest is well-known, alhough Pallenberg perennially avoids introspection,
Films of this nature are catnip for the nostalgia brigade, although the inherent misogyny of the times doesn't always make for palatable viewing. Her family loved her despite everything; she was one of the boys. She was very alive, although the footage of that mostly relates to her looking cool — she certainly had style - or being at a dinner table littered with empty bottles. That she and Marianne Faithfull escaped the fate of an Edie Sedgwick seems to be down to luck. The film views her survival as a triumph and in that way, it matches its subject's approach to life. "She knew everything, and she could say it in five languages. She scared the pants off me," says Richards. Fifty-plus years down the line, Pallenberg's life can seem less of a celebration than perhaps the film-makers imagine: there are times when she looks haunted, and for good reason.
Production companies: SK Global Entertainment
International sales: Cinetic Media, john@cineticmedia.com
Producers: Charlie Corwin, Alexis Bloom, Svetlana Zill
Editing: Hannah Vanderlan, Adam Evans
Main voice cast: Scarlett Johansson