After living in Paris since childhood, a Tunis-born psychoanalyst returns to her homeland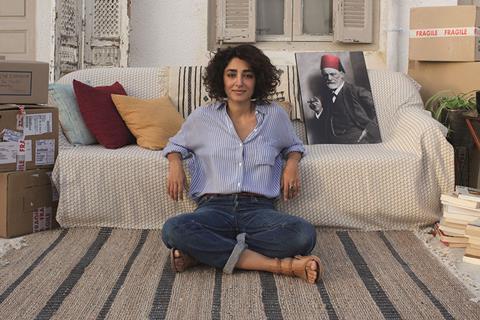 Dir-Scr: Manele Labidi. France. 2019. 88min
A light comedy on a topic you don't see every day, Arab Blues (Un Divan a Tunis) stars Golshifteh Farahani as radiant yet tough Selma, a Tunis-born psychoanalyst who, having lived in Paris since age 10, has returned to Tunisia to set up a practice in a country where people habitually talk like crazy but not to mental health professionals. Via a colourful array of characters still getting their bearings post-Arab Spring, first-time writer-director Manele Labidi packs a lot of affectionate observations into compact running time. With a nice roster of pre-sales under its belt, this is a pleasing addition to fest line-ups with low-key art house potential.
Selma isn't as fully fleshed out as she could be, but Farahani's effortless charisma makes circumstances convincing throughout
Using humor to approach cultural quirks and misconceptions, the tone is deftly established in the opening sequence. Selma and a removals man are surveying the possessions she has shipped from France. A framed vintage photo intrigues the mover who, based on what he sees – but we don't – concludes that the man must be a relative of Selma's and certainly an observant Muslim. Selma sets him straight: "Actually, he's Jewish. He's my boss." We then see that it's a portrait of Sigmund Freud wearing a colorized fez.
A constant smoker with a few tasteful tattoos, Selma, who gets flack for being a Parisian, plans to live in the rooftop apartment her family left behind in the building where her aunt and uncle and their girls live. Boldly leaving her card around town attracts an encouraging number of people tentatively curious about a talking cure. One male patient assumes she's a prostitute who works from home. After all, she invites men to lie down on a couch.
The younger generation, champing at the bit, is represented by Selma's spirited high school age niece, Olfa (Aïcha Ben Miled), a smart trouble-maker who can't believe Selma came back to Tunisia when all SHE wants to do is leave for Paris or London. The older generation is embodied by Selma's grandfather, who nobody has informed of major political changes due to his ill health.
One of the best gags concerns the night Selma is pulled over by local cop Naïm (Majd Mastoura) for a low-budget breathalyzer test. Something about Selma's urban sophistication intrigues him. Yet he decides to crack down on the fact that Selma is practicing without a local license. This administrative set-back provides rich opportunities to critique how hard it can be to navigate a government agency even if you speak the language and your request is reasonable.
The film conveys a real feel for the ways Arab traditions are entrenched or increasingly elastic, from the religious figure kicked out of his mosque for not having a beard to the baker who dreams nightly of Arab dictators and is troubled by the recent incursion of Vladimir Putin in his slumber to the vivacious hair salon owner a tad too adamant about her perfect life. The original retro-jazzy electric guitar-based score is also a delightful touch.
Selma isn't as fully fleshed out as she could be, but Farahani's effortless charisma makes circumstances convincing throughout. Because she feels drawn to the country but also because there are shrinks galore in Paris and here she can really make a difference, Selma is determined to make a go of it in Tunisia But multiple obstacles conspire against her until it seems as if she'll have to give up and return to Europe.
Production company: Kazak Productions
International sales: mk2 films fionnuala.jamison@mk2.com
Producer: Jean-Christophe Reymond
Production design: Mila Preli, Raouf Helioui
Editor: Yorgos Lamprinos
Cinematography: Lauren Brunet
Music: Flemming Nordkrog
Main cast: Golshifteh Farahani, Majd Mastoura, Aïcha Ben Miled, Feriel Chamari, Hichem Yacoubi, Najoua Zouhair, Jamel Sassi, Ramla Ayari