Dir: Leyla Bouzid. France, Belgium, Tunis, UAE, 2015. 102 minutes.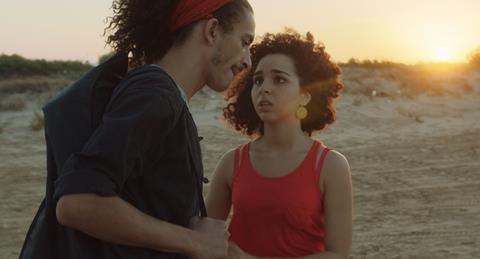 Taking place shortly before the Jasmine Revolution of 2010 which put an end to 33 years of dictatorship in Tunisia and led to the country's first free elections, Leyla Bouzid's fiercely committed debut should draw plenty of attention not only for the way it deals with the political climate in her homeland but also for how she charts the painful transition of her lead character from outspoken, rebellious adolescence to a more careful and often resigned adulthood.
Despite the constant arguments between Farah and her mother, their relationship remains the closest, warmest and the most touching feature of the entire film.
Strong openings in Venice and Toronto combined with the recent Bronze Tanit and FIPRESCI award at the Carthage Film Days, promise a strong festival career with potential box-office crossover in Arab populated territories for this film, which was inspired by Bouzid's own experiences running a cine-club in her hometown.
As I Open My Eyes follows Farah (Baya Medhaffer), a vibrant 18 year-old girl from a sheltered, middle class family. She would rather sing protest songs than study medicine, drink beer in public and stay out until all hours of the night - which no respectable person of her sex should do - and entertain, against all custom, a heavy-petting affair with Bohrene (Montassar Ayari), a horny, long-haired lute player. Farah insists, in her blissful ignorance, that she has the right to speak her mind at all times and in all places.
The efforts of her over-protective mother, Hayet (Ghalia Benali) to steer Farah away from trouble are to no avail. The round-faced, curly-haired girl, still sporting some traces of youthful baby fat, is determined to go her own way, only to discover for herself, almost too late, that not every friend is to be trusted and that parents are not always wrong.
Farah passionately performs outspoken elegies about the desolate state of their country ("My country, land of dust/Your gates are closed and bring misfortune") with her underground rock band. While she's undoubtedly just expressing the spirit and frustrations which trouble many of her generation, these performances, combined with her cheeky independent conduct, are more than enough to attract the attention of the authorities.
Taken separately, generational conflicts, police brutality, youthful protests or the position of women in a traditional patriarchal society, are certainly not new to the screen. Bouzid energetically merges them together, however, throwing in small touches and cameo characters who pass through, to round up the atmosphere of the place. Whether it is the drunken old poet who wanders from bar to bar and never goes home, children peeping through the foliage at Farah and Bohrene as they passionately embrace, men sitting in a coffeehouse and gazing, half-bemused, half-shocked, at a woman who dares to ener their territory, none of these moments, are underlined on their own but contribute to fill up the picture.
Despite the constant arguments between Farah and her mother, their relationship remains the closest, warmest and the most touching feature of the entire film. As much as the daughter insists on preserving her independence and the mother can't stop worrying about her whereabouts and conduct, Farah and Hayet's mutual attachment is evident at all times, and there is a degree of tenderness and love that no differences between them can dispel.
Baya Medhaffer's spunky performance may suggest at times a spoiled brat but she keeps Farah's affection for her mother intact all through, while Ghalia Benali, one of the most distinguished singers/songwriters in her country, offers a moving, deeply caring interpretation of someone who knows from her own experience what her daughter is going through and tries to spare her the pain that is obviously in store.
The alert camera of Sebastien Goepfert (Blue Is The Warmest Color), always on the move, never misses a trick and the four songs written by Khyam Allami to Ghassen Amani's lyrics deserve to have a life of their own, for they succinctly deal with themes familiar all over the Arab world.
Production companies: Blue Monday Productions, Propaganda Productions, Helicotronc Productions
International sales: Doc&Film International (d.elstner@docandfilm.com)
Producers: Sandra da Fonseca, Imed Marzouk.
Screenplay: Leyla Bouzid, Marie-Sophie Chambon
Cinematography: Sebastien Goepfert
Editing: Liliane Corbeille
Production design: Raouf Halloui
Music: Khyam Allami
Cast: Baya Midhaffer, Ghalia Benali, Montassar Ayari, Aymen Omrani, Lassaad Jamoussi, Deena Abdelwahed, Youssef Soltana, Marwen Soltana, Najoua Mathlouthi, Youness Ferhi, Fathi Aken, Saloua Mohammed