Locarno opens with a chase across the Piazza Grande, courtesy of Netflix and John David Washington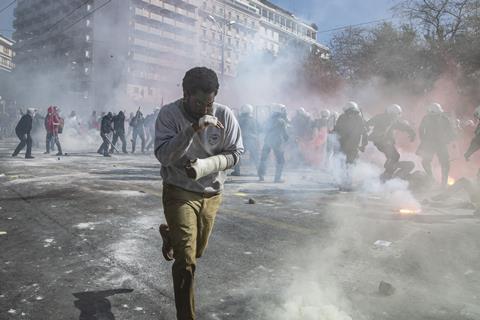 Dir. Ferdinando Cito Filomarino. Italy/Greece/US, 2021.108 mins.
In previous years, an opening film at Locarno named Beckett would have centred around a priest or a poet, but the festival returns after a year online and under new artistic direction with a 'running man' political thriller from Netflix, named after its unlikely protagonist, played by John David Washington.
Beckett has better films in its DNA
Produced by Luca Guadagnino and directed by his former partner and frequent collaborator on second unit Ferdinando Cito Filomarino, Beckett is set in Northern Greece during the anti-austerity protests, lobbing a political conspiracy into a low-season tourist holiday undertaken by lovers Beckett and April (Alicia Vikander). Set for global release through Netflix on August 13, Beckett clearly has potential on paper - The Fugitive in Europe with Costa Gavras-style conspiracy (as with Z, the state is the villain). Onscreen is another matter, though: Beckett is disappointingly under-cooked, with an oddly gluey pace for a for a man-on-the-run film.
Beckett and April have no backstory: they wake up one morning in a hotel room after a fight which, if nothing else, brings a sense of relief that at least this isn't Washington's last film for Netflix, Malcolm And Marie. We soon find out that they are an every-tourist couple who have left Athens for the northern part of the country due to the ongoing street protests. For reasons most likely to do with the fact that April is played by Alicia Vikander, a significant amount of time is spent with the couple dawdling and smooching their way around monuments and restaurants when portentous pauses have already made it clear that one of them is doomed - and it probably isn't the one with their name on the title.
The moment of reckoning comes during a car crash, which slams their vehicle upside down a ravine into a neglected shack. Regaining consciousness, Beckett sees something he shouldn't and, after he tells the local police chief about it, his time as a free man comes abruptly to an end.
Early on, in a restaurant, Beckett is established as a person who is hesitant to assert himself. Filmomarino must now turn him into a beefy protagonist who can lead audiences through a thin, if heavily seasoned, broth of a plot. Beckett doesn't have much to say about himself or his situation as the the police pursue him across mountainous Greek terrain. He puts everyone he comes in contact with in danger as he tries to get to the American embassy in Athens before his seemingly motive-less pursuers try to kill him.
Beckett's character is a grief-stricken man on the run for his survival, much like Harrison Ford in The Fugitive, an unwitting protagonist plunged into the mire of an Edge Of Darkness. Why, though? Vicky Krieps belatedly comes into the picture as a political activist who can put this chase into some sort of context, although it's clear at this point that the film-makers are bending the plot so hard it's about to pop its Greek clogs. The American embassy side of events, personified by Boyd Holbrook, verges on silliness. Essentially, what the audience is left with is John David Washington carrying everything on his broad shoulders, and it's a great credit to the actor that he's still enormously watchable throughout.
Commercially, the film streams on Netflix, which picked it up from Guadagnino's production company Frenesy. Money isn't a problem: Ryuichi Sakamoto scores, for example, and, as might be expected, second unit work is top-notch. You get a lot of Greece for your buck, although the couple is there during the "low point of the low season" so it's light on sun-kissed vistas.
Essentially, Beckett doesn't try hard enough to connect with audiences which usually relish a sophisticated political thriller, and falls back on the chase as its main selling point. And, indeed, the softer it is, plot wise, the easier it will translate to all markets for the world's largest streaming service. Beckett, though, has better films in its DNA - it is by no means original. What it mostly serves as is a reminder of what is missing from independent cinema - and may well be gone for good.
Production companies: Frenesy Film Company, Memo Films.
International distribution: Netflix
Producers: Luca Guadagnino, Marco Morabito, Francesco Melzi d'erik, Gabriele Moratti
Screenplay: Kevin A Rice, from a story by Ferdinando Cito Filomarino
Cinematography: Sayombhu Mukdeeprom
Production design: Elliott Hostetter
Editing: Walter Fasano
Music: Ryuichi Sakamoto
Main cast: John David Washington, Boyd Holbrook, Vicky Krieps, Alicia Vikander