Kenneth Branagh goes back home for this touching coming-of-age story set during the onset of The Troubles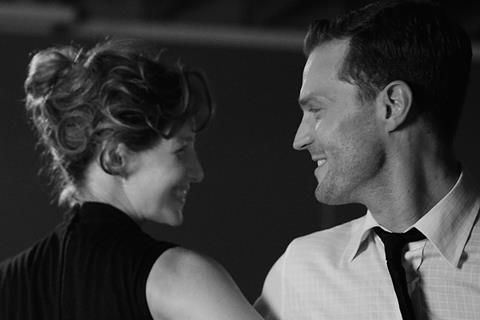 Dir/scr. Kenneth Branagh. UK. 2021. 97 mins.
Kenneth Branagh's gentle memoir of his childhood in Belfast is a rare personal expression from the celebrated actor/director, who was born in the Northern Irish capital but moved to the UK at the age of nine. In fact, it's the first time he has really returned to The Troubles since TV's Billy plays shot him to stardom some four decades ago. Branagh only began to write about his past during lockdown, and quickly shot Belfast once restrictions were lifted, largely on a purpose-built set in the UK which subbed for the close-quarters street of terraced housing in which he spent his formative years.
Jamie Dornan and Caitriona Balfe have terrific chemistry
The result is engaging, tender film-making which tugs at the heart-strings, spurred by a sympathetic cast and the young lead, newcomer Jude Hill. Best compared, perhaps, with John Boorman's Hope And Glory, Belfast is more led by its love for family and community than detailing the external forces which threaten to tear them apart. Caitriona Balfe and Jamie Dornan make an impossibly handsome parental pair, it's true, but as granny and 'pops', Judi Dench and Ciaran Hinds share a sweetly loving relationship as witnessed through the eyes of a child. Shot mainly in black and white, prompting comparisons to Roma, Belfast is a more expressly intimate and personal, small-scale affair in which only a typically restless camera gives its pedigree away - as if Branagh can't quite bring himself to ditching the whistles and bells of his bigger budget affairs. A soundtrack by Van Morrison will bring back memories of better days for the Northern Irish singer-songwriter, now mired in Covid conspiracy controversies.
Belfast opens in full colour, with a shot of the Harland and Wolff cranes which dominate the city skyline, the camera breezing through the streets of today to rest on historical landmarks and new additions to the landscape including the Titanic museum — before shifting smoothly to a lengthy black-and-white tracking shot in which young Buddy (Hill) is called in off the terraced streets of the same city for his tea. But this is August 15, 1969, the very start of the Troubles, and Billy's home is on a 'mixed' street where Catholics and Protestants live side-by-side. Before he can make it back, there's an explosion: soon, the street will be barricaded off.
There's some talk of the differences between Catholics - who go to communion - and Protestants, who don't. But mostly Buddy is preoccupied with scrambling over the barricades, watching his beloved Westerns on TV (High Noon is cleverly used in a climactic scene), and ineptly stealing Turkish Delights from the local shop, prompting a visit from a terrifying copper. His mother (Balfe) raises Buddy and his brother pretty much alone as his father (Dornan) travels back and forth to the UK working as a joiner to pay off his tax bills. There's friction in the marriage, which intensifies when the pressure intensifies to move away from what is turning into ugly street warfare and thuggery.
Buddy spends his time with granny, pops and his cousin, nurses a crush on a local Catholic girl who prompts the boy to up his game in maths class, and acts as a witness to the incremental heartbreak The Troubles will inflict as the British Army moves in. Like any 10 year-old, he eavesdrops furiously on adult conversations he doesn't quite understand.
Jamie Dornan, himself from Northern Ireland, and the South's Caitriona Balfe have terrific chemistry, even if it's a little incongruous on a poor terraced street in Belfast in the late 1960s — they look as If they popped in from the jazz bars of Pavel Pawlikowski's Cold War with their street dancing and impromptu big-band singing. Yet the actors are more than capable of conveying the tension of a marriage under extreme stress from all corners — ageing relatives, financial problems, separation, and the Civil War they suddenly find themselves living in.
It's Hinds, though, and Dench, who will grab at viewers' hearts. Belfast-born Hinds isn't quite 70 to Dench's 85, but they're a good match (her mother was Irish), and Branagh has given them the most tender of characterisations and direction. Playing into this is a strong sense of time and place from production designer Jim Clay, working with a 360-degree set, a world in itself - just like the real street in which Branagh spent his clearly formative years. By the time the final dedication rolls onscreen - 'to the ones who stayed, left, and were lost' - Buddy isn't the only one with a lump in his throat at the prospect of leaving Belfast.
Production companies: TKBC
Worldwide distribution: Universal/Focus Features
Producers: Kenneth Branagh. Laura Berwick. Becca Kovacik, Tamar Thomas
Screenplay: Kenneth Branagh
Production design: Jim Clay
Cinematography: Harris Zambarloukos
Editing: Una Ni Dhonghaile
Music: Van Morrison
Main cast: Caitriona Balfe, Judi Dench, Jamie Dornan, Ciaran Hinds, Colin Morgan, Jude Hill.