Alfred Doblin's famed 1929 novel is brought up to date by Burhan Qurbani's ambitious - and lengthy - film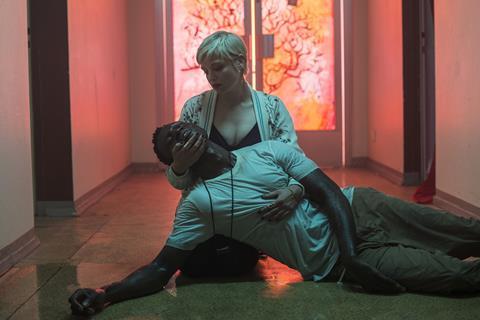 Dir: Burhan Qurbani. Germany. 2020. 183mins
Alfred Doblin's 1929 novel 'Berlin Alexanderplatz' was a seminal work that cast its lot in with the German underclass just when the fast-growing Nazi party was elaborating the myth of the master race. It's easy to see why Burhan Qurbani, born of Afghan parents who migrated to Germany, would want to update this urban lowlife epic and recast it as the odyssey of an illegal immigrant in present-day Berlin. The paradox is that in modernising 'Berlin Alexanderplatz', Qurbani has created an ambitious but also stridently melodramatic moral parable that seems oddly dated.
Qurbani brings the action up to date and reimagines Doblin's white, Berlin-born petty criminal protagonist as an illegal immigrant from Guinea Bissau.
There's a sense, as we watch, that Qurbani is trying to unpick and analyse a national trauma, one also touched upon in We Are Young, We Are Strong, his tough 2014 drama about the 1992 anti-immigrant riots in Rostock, co-written (like Berlin Alexanderplatz) with Martin Behnke. Issues of racial integration, or the lack of it, are increasingly relevant in a Europe that seems to be going backwards in this respect, but the moods and mannerisms of Qurbani's film are deeply rooted in the Germany of a century ago and a Berlin decadence which is revived in a way that almost flatters the place. As a result, audiences outside of German-speaking territories may end up feeling a little like onlookers.
In his own 1980 TV adaptation of the German literary classic, Rainer Werner Fassbinder made the story relevant by simply presenting it as a period piece, leaving the audience to draw their own parallels between the divided Berlin of that time and the depressed Weimar Republic city of Doblin's novel. Qurbani takes a different route, bringing the action up to date and reimagining Doblin's white, Berlin-born petty criminal protagonist as an illegal immigrant from Guinea Bissau. Francis (a committed, nuanced performance from Portugese-Guinean actor and director Welket Bungue) is desperate to make something of himself while honouring the vow he made when he washed up on a European beach after a tragic crossing: "I swear that from this day on I will be good".
Qurbani's film begins, like Shakespeare's Tempest, with a shipwreck and drowning, one we assume to involve Mediterranean asylum-seekers. After this impressionistic prologue with its shades of Terrence Malick (not least in a dreamy voiceover), the director progresses to Part 1 of the film's five chapters, with Francis living in a dilapidated illegal migrant shelter that doubles as a brothel, somewhere in the Berlin suburbs.
It's here that a hero who will remain a little opaque and one-sided, defined more by what he says he wants in voiceover than by anything we see him do, first encounters Reinhold (Albrecht Schuch), the devil to Francis' uncertain Everyman. Reinhold is the drug-dealing lieutenant of sleazy but canny crime boss Pums (Joachim Krol), who soon spots Francis' potential. Later, after his toxic relationship with the psychopathic Reinhold goes sour, with serious consequences for the immigrant who has by now Germanised his name to 'Franz', Francis is thrown into the arms of Mieze (Jella Haase), a prostitute who is his lover, income source and good angel in one small package.
Berlin Alexanderplatz's lurid take on the 'hero's journey' is at its most graphic in the borderline absurd character of Reinhold, with his twisted posture and creepy, high-pitched voice. It's not obvious what Qurbani is aiming for with this characterisation; one guess is that he's attempting a politically-aware German take on the Blaxploitation genre. If so, there are moments when he achieves it – particularly once Mieze comes into the picture from the midpoint on. In her fresh take on the hooker-with-a-heart-of-gold stereotype. Haase seems one of the few, director included, who fully understand the tone of a film that is basically a genre outing with metaphysical pretensions. These pretensions are embedded in flashy crane shots and lots of talk, amidst the drug deals and jewel-shop heists, of good and evil, redemption and damnation. It comes as no surprise to learn that a revamp of Kieslowski's 'Three Colours' trilogy is next on Qurbani's wishlist.
Production companies: Sommerhaus Filmproduction
International sales: Beta Cinema, beta@betacinema.com
Producers: Leif Alexis, Jochen Laube, Fabian Maubach
Screenplay: Martin Behnke, Burhan Qurbani
Production design: Silke Buhr
Editing: Philipp Thomas
Cinematography: Yoshi Heimrath
Music: Dascha Dauenhauer
Main cast: Welket Bungue, Jella Haase, Albrecht Schuch, Joachim Krol, Annabelle Mandeng, Richard Fouofie Djimeli, Nils Verkooijen