Dir: Wang Bing. France/Hong Kong, 2016. 152 mins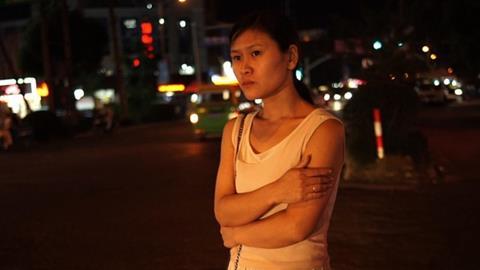 Documentarist Wang Bing continues his charting of contemporary Chinese society in Bitter Money, a no-frills study of the dreams, daily struggles and ever-tested hopes of workers in China's garment industry.
The long-term workers we meet seem permanently locked into this universe of small-time sweat shops.
The theme of migration, central to his recent Berlin-premiered Ta'ang, is further pursued in Bitter Money, which begins with three people arriving in a city in East China to be absorbed into the local workforce and the daily grind of ill-remunerated piecework. A characteristically rough-edged work, both visually and in the sound recording, the film eschews aesthetic finesse to follow its multiple characters where situations demand, to strikingly vivid effect.
Wang's refusal to impose an artificial narrative structure makes Bitter Money tough viewing in many ways – although the film comes across as an easy-viewing bagatelle compared to such marathon Wang works as Till Madness Do Us Part and the nine-hour West of the Tracks - but Bitter Money will demand attention from festivals, TV and adventurous specialist distributors.
The film begins in a village in Yunnan Province in Western China, where 15-year-old Xiao Min is about to leave her family for Huzhou in Eastern China, a magnet for migrant workers seeking jobs in the garment trade. Wang follows Xiao and her cousin Chen Yuanshen on a long, uncomfortable train journey, then shows them settling into a new flat in Huzhou. They're lucky in their living conditions: other workers we meet inhabit cramped dormitories and cell-like shared rooms provided by workshop bosses.
In Huzhou, Wang's focus drifts from worker to worker, each new person identified in subtitles by name, age and place of origin. A key section follows Xiao's co-worker Ling Ling, a woman experiencing gruelling marital tensions. While Ling is clearly very aware of the film-makers' presence – at one point actually instructing the camera operator to follow her – the camera seems to become effectively invisible during the harrowing sequence in which Ling's husband Erzi berates and brutalises her in front of other men. This is one of the moments of the film in which it's hard not to question the ethics of Wang's observational detachment and, indeed, not to wonder how much of the action is being staged with the subjects' complicity.
We also meet an 18-year-old man named Chen Yuanwei, who decides to return to his village after a week of 12-hour working days, and an older man named Huang Lei who, scarred by years of the workshop life, bad living conditions and separtion from his family, has a drinking problem. One scene shows him trying to get paid by his boss, a seemingly affable, benevolent youngish man who says he'll only pay Huang when he turns up sober – which may be one way to avoid paying him at all.
It's hard to tell quite how payment works in the garment economy – wages appear to be paid in cash on an ad hoc or even random basis, and most of the workers we meet, employed in small concerns, dream of moving on to bigger factories where the pay is supposedly much better. But it seems a safe bet that for most, if not all, that is a pipedream, since the long-term workers we meet seem permanently locked into this universe of small-time sweat shops.
Largely adopting a fly-on-the-wall stance, Wang adopts an agile head-held approach, the camera following his subjects on the move. Occasionally too, a question will be heard from off-camera, Wang's subjects responding directly to a seemingly much-needed confidant. His frequent jumping from one subject to another can make the film's drift hard to follow, and the refusal of an artificial narrative structure or overtly presented rhetorical argument demands that we simply pay attention and immerse ourselves in a harsh world of constant 'wandering' that, as Wang has pointed out in his director's statement, has become a dominant condition of Chinese experience today.
Production companies: Gladys Glover, House on Fire, Chinese Shadows
International sales: Pyramide International, avalentin@pyramidefilms.com
Producers: Sonia Buchman, Nicolas R. de la Mothe, Vincent Wang, Mao Hui
Cinematography: Maeda Yoshitaka, Liu Xianhui, Shan Xiaohui, Song Yang, Wang Bing
Editor: Dominique Auvray