Ireland's devastating potato famine is the backdrop for Lance Daly's revenge western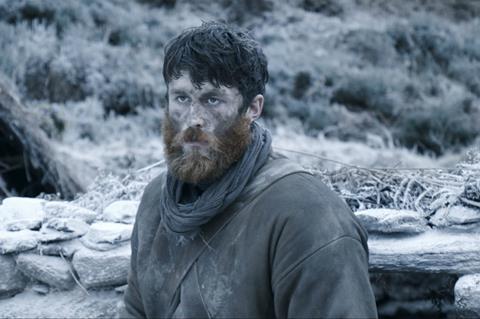 Dir. Lance Daly. Ireland, 2018. 96mins
'Black 47' is a familiar term in Ireland for the worst year of the potato famine, in which a million people died and more than two million were displaced. Lance Daly's film, the first to deal with the traumatising events of the mid-1800s, will also play best at home, where the context is widely understood and appreciated and still haunts the country today. Using the 'Great Hunger' as a backdrop for a revenge western is an interesting way to exorcise old ghosts, but the end result drains pathos from the tragedy while muting The Proposition-style genre elements.
Shot on location in Connemara, Black 47 is intermittently effective on a visual level
Thanks to its subject matter, Daly's clunky, rough-hewn film may secure slim US interest, even though it's couched partially in Gaelic as Feeney (Animal Kingdom's James Frecheville), who has taken 'the king's shilling' to fight in Afghanistan for the British Army, returns to Connemara to find his mother has died of starvation, his brother has been hanged, and his starving sister-in-law (Sarah Greene) and children are holding on to life by a thread.
When that thread finally snaps, it's no surprise that the silent-but-deadly Feeney is provoked into a campaign of bloody retribution which will surge through the local constabulary and clergy and all the way to the local British landlord Lord Kilmichael (Jim Broadbent, in full aristo-sneer mode).
Meanwhile, Hugo Weaving (looking uncannily like Sam Neill) plays Hannah, a drunken British inspector and former colleague of Feeney's in Kabul who is tasked with tracking him down. The necessities of the revenge drama – Feeney is almost supernaturally-talented with a rifle, while the local force could come from the Keystone Cops – sit uncomfortably beside scenes of starvation in this film, which plays out of Competition at the Berlinale before opening the Dublin Film Festival.
Although Daly's picture isn't arthouse friendly, being over-lit and under-nuanced, the great gift of the famine is that the bad guys could hardly be worse. The British aristocracy and its enforcers and enablers are given no shading and, historically-speaking, deserve none. Freddie Fox and his floppy fringe cartoonishly embody the superior colonial attitude, while Stephen Rea is a savvy local observer of events. Barry Keoghan has an under-written role as a junior officer, while starving natives in rags observe events like zombie hordes.
Shot on location in Connemara, the wild west of Ireland, Black 47 is intermittently effective on a visual level. Wide, windswept vistas give way to some poorly-rendered CG thatched cottages, but there's a flat, TV-value air to the visuals for the most part. It's left to the actors to carry Daly's shifting tones – Frecheville is particularly effective, despite being mostly mute, while Weaving is solid in everything except his British accent. Broadbent and Rea, hardy veterans both, are most at ease in roles that convey the film's message with greater effect than the leads.
Production companies: Fastnet Films, Primeridian production
International sales: Altitude Films, KarinaGechtman@altitudefilmsales.com
Producers: Macdara Kelleher, Tim O'Hair, Arcadiy Golubovich, Jonathan Loughran
Screenplay: PJ Dillon, Pierce Ryan, Eugene O'Brien, Lance Daly
Cinematography: Declan Quinn
Production Design: Waldemar Kalinowski
Editors: John Walters, Julian Ulrichs
Music: Brian Byrne
Main cast: Hugo Weaving, James Frecheville, Stephen Rea, Freddie Fox, Barry Keoghan, Moe Dunford, Sarah Greene, Jim Broadbent