Jean-Christophe Meurisse pushes buttons with his provocative Cannes Midnight entry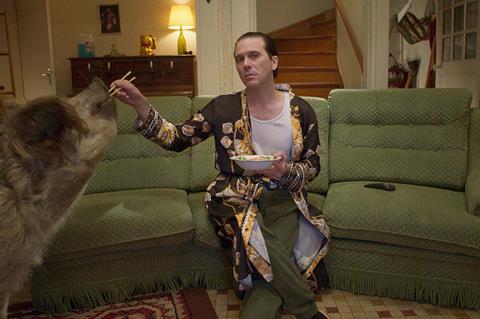 Dir: Jean-Christophe Meurisse. France. 2021. 102mins
A savage black comedy and an up-to-the-moment commentary on contemporary society, Bloody Oranges launches a broadside on political correctness. A freewheeling vignette structure weaves together the stories of, among others, a elderly couple who hope that winning a rock-and-roll dance competition will solve their financial issues; their charmless social-climbing son; a politician embroiled in a tax evasion scandal and a teenage girl who is beginning to explore her sexuality. With characters who say the unsayable and a plot which takes a sudden swerve and gleefully shows the unspeakable, this is a bracing provocation of a film.
The energy, anarchy and disruptive mischief at play go some way towards smoothing over the picture's very rough edges
This is the second feature from Jean-Christophe Meurisse (who is well known in France for his stage work and for founding the theatre company Chiens de Navarre); it follows Apnée, which premiered in Cannes Critics Week in 2016. As this picture's berth in Cannes' Midnight strand suggests, Bloody Oranges is a film which takes the audience to some fairly uncomfortable places – although by no means as uncomfortable as the events endured by several of the characters. As such, it may be a divisive proposition, not least because the darker aspects are so unexpected. One moment we are watching a talky French socio-political satire, the next we are most definitely not in Kansas anymore, so to speak. The sheer shock value of the film's tonal shift will likely make it a talking point on the festival circuit; the confidence of execution may attract stout-hearted distributors (although the controversy-averse need not apply). The film will be released in France by The Jokers later this year.
It's a provocation, certainly, but the deeper question is whether it is an empty provocation or whether there is an intellectual aspect at play. The obvious assumption is that Meurisse is forcing the audience to confront its own tolerance levels for extreme violence, to question what makes one scene in some ways acceptable and another, very similar one, to register as beyond the pale. To manipulate the audience in this way relies on some fairly crude characterisation: the people who populate the film can be divided, fairly neatly, down the middle into the good and the bad, justifiable victims and those who need to be avenged (or to do their own very capable avenging).
The most likeable of the characters are the jive-dancing retired couple (Olivier Saladin, Lorella Cravotta) who don't want to burden their children with the parlous state of their finances and certainly wouldn't consider selling their home and robbing the kids of their inheritance. Their plan is to win a car for their enthusiastic dance moves, sell it and pay off some of the debts. The son (Alexandre Steiger) that they are protecting is a rather less sympathetic character. A simmering grudge in a suit, his conversations are an unfiltered attack on whoever happens to be in his crosshairs. This doesn't always work out in his favour. A bout of post-coittal misogyny is countered by his partner with emasculating mockery so comprehensive, you almost want to stand up and applaud.
Then there's the young girl (Lilith Grasmug) who is preparing to enter the world of sexual activity with a visit to an eye-wateringly candid gynecologist. It's a scene which, like several in Bloody Oranges, feels rather contrived. This can lead to an episodic, almost sketch-show feel to a film which takes a while to cohere into a satisfying whole. Whether this matters or not is debatable. Meurisse plays by his own rules – the energy, anarchy and disruptive mischief at play goes some way towards smoothing over the picture's very rough edges.
Production companies: Rectangle Productions, Mamma Roman
International sales: Best Friend Forever sales@bffsales.eu
Producers: Romain Daubeach, Marine Bergere, Alice Girard
Screenplay: Yohann Gloaguen, Jean-Christophe Meurisse, Amélie Philippe
Cinematography: Javier Ruez Gomez
Editor: Flora Volpelière
Production design: Hervé Redoule
Main cast: Denis Podalydès, Blanche Gardin, Christophe Paou, Alexandre Steiger, Vincent Dedienne, Olivier Saladin, Lorella Cravotta