Rami Malek is a standout in this compulsively watchable Queen band biopic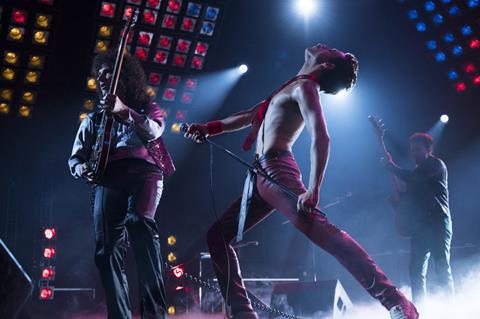 Dir: Bryan Singer. US. 2018. 134mins.
Pure pleasure permeates Bohemian Rhapsody, a joyful, impish portrait of Freddie Mercury and Queen that doesn't worry about making the case for these artists' greatness but does persuasively argue that being in a rock 'n' roll band is a blast. Appropriately for a group known for its theatrical, crowd-pleasing tunes, this authorised-by-the-band biopic carries itself lightly, serving up familiar plot points with panache and a sense of humour, while at the same time investing in the story's emotional through-line, building to a genuinely moving climax. But just as Queen would have been nothing without Mercury's arresting, sexy presence, so too is Bohemian Rhapsody dominated by Rami Malek's magnetic, frisky and unexpectedly poignant performance as the late lead singer.
A compulsively entertaining breeze
Queen fans ought to be ecstatic when this Fox release hits UK theatres October 24. (Bohemian Rhapsody arrives in the US on November 2.) Nostalgic rockers will be first in line, although those familiar with Malek (best known for the acclaimed TV series Mr. Robot) should also be intrigued. Bohemian Rhapsody has experienced a difficult path to the screen, with different stars and directors signing up and then leaving the project. Then, in the midst of production, director Bryan Singer was replaced by Dexter Fletcher, who will next be making the Elton John biopic Rocketman. (However, Singer is the sole director credited on Bohemian Rhapsody.)
Such behind-the-scenes turmoil often portends disaster, but the finished film shows little sign of that complicated history. Above all, Bohemian Rhapsody is a compulsively entertaining breeze, moving from era to era of the band's history with ease.
Malek plays Mercury starting in 1970 as he dreams of stardom, teaming up with guitarist Brian May (Gwilym Lee), drummer Roger Taylor (Ben Hardy) and bassist John Deacon (Joe Mazzello) to form Queen. Over the next 15 years, the band will enjoy the heights of fame but face turmoil once Mercury plots a solo career, which puts Queen's future in doubt.
Anthony McCarten's screenplay (from a story by him and Peter Morgan) establishes early on Mercury's need for reinvention — growing up Farrokh Bulsara, he's ashamed of his upbringing in Zanzibar — and Malek conveys the awkward, self-conscious young man that remained within Mercury even when Queen was selling out arenas. Bohemian Rhapsody has an unoriginal thematic arc — Mercury needs to learn to accept and love himself — but the filmmakers and their star give that journey resonance, culminating in the band's powerful reunion at the 1985 Live Aid concert.
It's inevitable that a certain amount of narrative truncation and rock-star cliché will enter into the mix. (While Queen's music was often flamboyant and risk-taking, the band's rise-then-fall trajectory wasn't unique.) Nevertheless, Bohemian Rhapsody mostly succeeds in rethinking familiar story beats. When the movie stops to show us how a classic track such as "Bohemian Rhapsody" was crafted, the sheer enthusiasm of the filmmaking — alongside the musicians' thrill of discovery — gives these de rigueur scenes spark. (The film even finds time to work in a decidedly meta joke about that hit song by including a Mike Myers cameo.) In addition, the concert scenes crackle, emphasising the communal spirit inherent in likeminded artists working together to perform indelible tunes.
Malek sports makeup and fake teeth to capture Mercury's toothy, pretty countenance, but more importantly, the actor channels the singer's swaggering presence. And although he confidently demonstrates Mercury's towering onstage demeanour, he's just as interested in the man's sweetness and his camaraderie with his band mates. As Bohemian Rhapsody explores Mercury's growing embrace of his homosexuality — and his later battle with AIDS — Malek navigates through potentially melodramatic material with a winning modesty that keeps this iconic rock star feeling remarkably life-sized.
Not surprisingly, the rest of Queen aren't as deeply dramatised, although Lee makes for a likeable May. As Mary Austin, a supportive woman whom Mercury impulsively marries in his youth, Lucy Boynton has to contend with being relegated to the sidelines, serving as a sympathetic, tough-love force in the film. But Bohemian Rhapsody belongs to Mercury, whose sometimes sad story is counterbalanced by the brassy assurance of his band's music. At the film's Live Aid finale, both the sadness and elation are on display, coexisting on Malek's face and in the urgent electricity of his performance.
Production company: GK Films
Worldwide distribution: 20th Century Fox
Producers: Graham King, Jim Beach
Screenplay: Anthony McCarten, story by McCarten and Peter Morgan
Production design: Aaron Haye
Editing: John Ottman
Cinematography: Newton Thomas Sigel
Music: John Ottman
Main cast: Rami Malek, Lucy Boynton, Gwilym Lee, Ben Hardy, Joe Mazzello, Aidan Gillen, Allen Leech, Tom Hollander, Mike Myers