Jeffrey Schwarz uncovers other hidden gay lives in Hollywood via Gloria Swanson's desire to turn 'Sunset Blvd' into a musical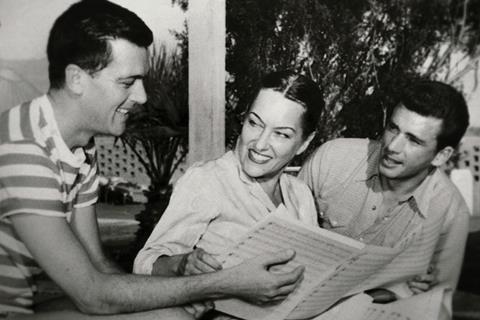 Dir: Jeffrey Schwarz. US. 2021. 85 mins.
Despite her brilliant career in silent film, Gloria Swanson will forever be best remembered as the iconic washed-up former silent film star Norma Desmond in Billy Wilder's Sunset Blvd, a black-comedy/noir which rewrote Swanson's career as Norma's in the minds of many. In Boulevard! A Hollywood Story, director Jeffrey Schwarz (I Am Divine) uncovers an intriguing true-life tale of passion to match Desmond's fictional story. Beginning with Swanson and ending with a song and a dance, Boulevard! is the unlikely story of how an unsuspecting gay British actor and writer became the object of Swanson's affections while trying to help her turn Sunset Blvd. into a musical.
Schwarz really wants to tell the story of a gay life hiding in Hollywood.
Armed with an impressive wealth of archive materials, Schwarz – whose documentary subjects to date have all been gay cult icons, from William Castle and Tab Hunter to Allan Carr – has made a documentary starring Gloria Swanson that is not really all that interested in Gloria Swanson. But the actress always outshone her co-stars and her cameo in closeted gay actor and writer Richard Stapley's (later known as Richard Wyler) life is no different. There is more than enough of Swanson for the film to appeal to a wide audience, and Boulevard! should continue its journey at LGBTQ+ and documentary festivals before finding its home on the small screen – something Stapley might be happy with even if Swanson/Desmond would not.
Trying to milk the comparison for all it is worth whilst also respectfully distancing Swanson from Desmond (a recording of Swanson's voice defiantly says, "I don't actually know of anyone who lived like Norma Desmond"), Schwarz tells the story of an out-of-work film star desperate to make a comeback. Echoing the plot of Sunset Blvd., Richard Stapley became the unwitting object of Swanson's affections when she approached him and his songwriting partner, Dickson Hughes, to reprise Sunset Blvd. as a musical. Stapley, who had once been dubbed the 'English Clark Gable', having starred in The Three Muskateers (1948) and Little Women (1949), was now a lyricist working with composer Hughes, mostly so that the two men could live together as partners at a time when being openly gay would have ended their careers.
But for all of its initial focus on how the trio met and secured the rights to Sunset Blvd., the film is not really all that interested in a musical that might have been. Schwarz first discovered the story in Sam Stagg's book, 'Close Up On Sunset Blvd: Billy Wilder, Norma Desmond and the Dark Hollywood Dream', and while it's a great hook, he establishes the connection between Billy Wilder's fiction and the trio's musical because of the of the unhappy love triangle it suggests – and because there is a perfect, ready-made soundbite from an existing interview with Dickson Hughes narrating to that effect. But, as with his documentary subjects before Stapley, Schwarz really wants to tell the story of a gay life hiding in Hollywood.
Once Schwarz settles on Stapley as subject, the film takes focus and is easy to follow. But up until that point, and for almost two thirds of its narrative, Boulevard! seems unsure of who or what is the star of the show: Swanson, Stapley or the musical. Swanson, even in clips, pics and audio archive, overshadows her co-stars, making it difficult for Stapley's own quietly remarkable story – which includes a comeback of sorts as the reinvented Richard Wyler in Man From Interpol – to take centre stage.
Along with audio snippets from the unrealised musical, Schwarz uses movie clips and pictures of the trio, set to Miriam Cutler's intense score, to bring the love triangle dramatically to life. Schwarz jam-packs the film with rich historical documentation, drawing from the Harry Ransom Center at the University of Texas, recommended by Swanson's granddaughter, Brooke Anderson, as well as personal items from friends of Stapley and Dickson.
Boulevard! also includes several unfussy animated sequences by Maurice Vellekoop that imagine the emotion which the archive materials cannot account for: Stapley's and Hughes' hands touching, or the lust, jealousy and drama of a furrowed brow. In one especially poignant animated sequence, Vellekoop's colourful image disintegrates, revealing, as it peels away, a black and white photograph of the trio, illustrating the artistic licence involved with interpreting the past.
Production companies: Automat Pictures, Lottie & Lorraine Pictures
International sales: The Film Collaborative, jeffrey@thefilmcollaborative.org
Producers: Jeffrey Schwarz, John Boccardo
Cinematography: Doug Hosdale, Mat May
Editing: Jeffrey Schwarz
Music: Miriam Cutler